Thermo-stop
24th December 1971
Page 37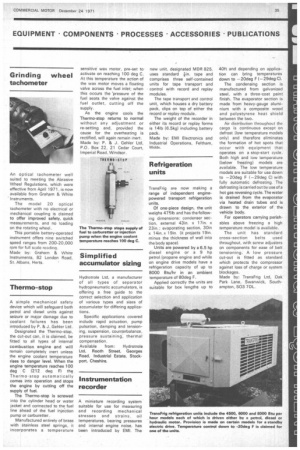 Page 37, 24th December 1971 —
Thermo-stop
Close
A simple mechanical safety device which will safeguard both petrol and diesel units against seizure or major damage due to coolant failures has been introduced by P. & J. Gehler Ltd.
Designated the Thermo-stop, the cut-out can, it is claimed, be fitted to all types of internal combustion engine and will remain completely inert unless the engine coolant temperature rises to danger level. When the engine temperature reaches 100 deg C (212 deg F) the Thermo-stop automatically Conies into operation and stops the engine by cutting off the supply of fuel.
The Thermo-stop is screwed into the cylinder head or water jacket and connected to the fuel line ahead of the fuel injection pump or carburetter.
Manufactured entirely of brass with Stainless steel springs, it incorporates a temperature sensitive wax motor, pre-set to activate on reaching 100 deg C. At this temperature the action of the wax motor moves a floating valve across the fuel inlet: when this occurs the 'pressure of the fuel seats the valve against the fuel outlet, cutting off the supply.
As the engine cools the Thermo-stop returns to normal without any adjustment or re-setting and, provided the cause for the overheating is rectified, will again remain inert. Made by: P. & J. Gehler Ltd, P.O. Box 22, 21 Cedar Court, Imperial Road, Windsor.