Refrigeration units
24th December 1971
Page 37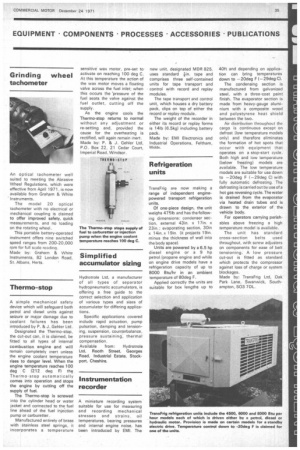 Page 37, 24th December 1971 —
Refrigeration units
Close
TransFrig are now making a range of independent enginepowered transport refrigeration units.
Of one-piece design, the unit weighs 475Ib and has the following dimensions: condenser section. external 43in, x 17in. x 23in.; evaporating section, 30in x 141n. x 19in. (it projects 19in. minus the thickness of wall into the body space).
Units are powered by a 6.5 hp diesel engine or a 9 hp petrol /propane engine and while on engine drive models have a refrigeration capacity of up to 8000 Btu/11r in an ambient temperature of 80deg F, Applied correctly the units are suitable for box lengths up to
40ft and depending on application can bring temperatures down to —20deg F I— 29ileg C).
The condensing section is manufactured from galvanized steel, with a three-coat paint finish. The evaporator section is made from heavy-gauge aluminium with a composite wood and polystyrene heat shield between the two.
Air distribution throughout the cargo is continuous except on defrost (low temperature models only) and therefore eliminates the formation of hot spots that occur with equipment that operates on a stop-start cycle. Both high and low temperature (below freezing) models are available. The low temperature models are suitable for use down to —20deg F (-29deg C) with fully automatic defrosting. The defrosting is carried out by use of a hot gas reversing cycle. The water is drained from the evaporator via heated drain tubes and is drawn to the exterior of the vehicle body.
For operators carrying perishables above freezing a high temperature model is available.
The unit has standard cross-section belts used throughout, with screw adjusters on components for ease of belt tensioning. A low pressure cut-out is fitted as standard which protects the compressor against loss of charge or system blockages.
Made by: TransFrig Ltd, Oak • Park Lane, Swanwick, Southampton, S03 70L.