Instrumentation recorder
24th December 1971
Page 37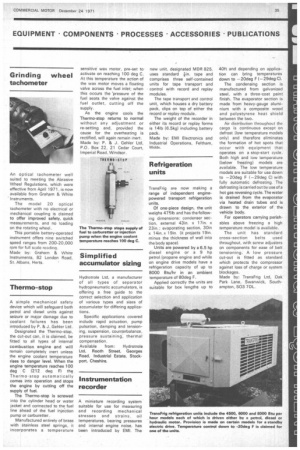 Page 37, 24th December 1971 —
Instrumentation recorder
Close
A miniature recording system suitable for use for measuring and recording mechanical stresses and strains, oil temperatures, bearing pressures and internal engine noise, has been introduced by EMI. The
new unit, designated MDR 825. uses standard -14-in. tape and comprises three self-contained units for tape transport and control with record and replay modules.
The tape transport and control unit, which houses a dry battery pack, clips on top of either the record or replay module.
The weight of the recorder in either its record or replay forms is 14Ib (6.5kg) including battery pack.
Made by: EMI Electronics and Industrial Operations, Feltham, Middx.