keeping them running
24th December 1971
Page 35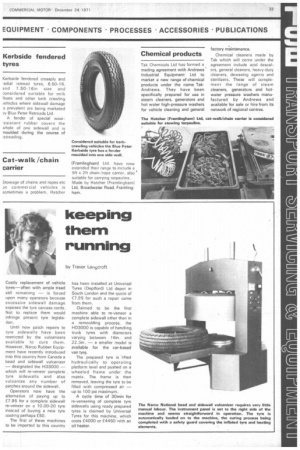 Page 35, 24th December 1971 —
keeping them running
Close
by Trevor Lou l,croft Costly replacement of vehicle tyres—often with ample tread still remaining — is forced upon many operators because excessive sidewall damage exposes the tyre carcass cords. Not to replace them would infringe present tyre legislation.
Until now patch repairs to tyre sidewalls have been restricted by the vulcanizers available to cure them. However, Narco Rubber Equipment have recently introduced into this country from Canada a bead and sidewall vulcanizer — designated the HD3000 — which will re-veneer complete tyre sidewalls and also vulcanize any number of patches around the sidewall.
Operators now have the alternative of paying up to £7.95 for a complete sidewall re-veneer on a 10.00-20 tyre instcad of buying a new tyre costing perhaps £50.
The first of these machines to be imported to this country has heen installed at Universal Tyres (Deptford) Ltd depot in South London and the quote of £7.95 for such a repair came from them.
Claimed to be the first machine able to re-veneer a complete sidewall other than in a remoulding process, the HD3000 is capable of handling truck tyres with diameters varying between 16in. and 22.5in. — a smaller model is available for the car-based van tyre.
The prepared tyre is lifted hydraulically to operating platform level and pushed on a wheeled frame under the matrix. The frame is then removed, leaving the tyre to be filled with compressed air — up to 100 psi maximum.
A cycle time of 30min for re-veneering of complete tyre sidewalls using ready prepared tyres is claimed by Universal Tyres for this machine, which costs £4000 or £4450 ■Arith an oil heater.