Rear lamp cluster
24th December 1971
Page 34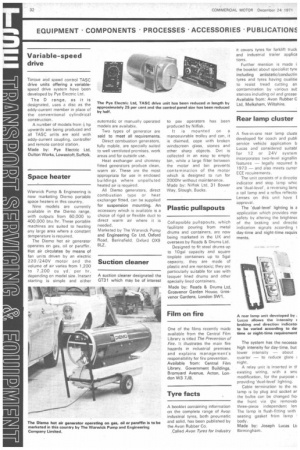 Page 34, 24th December 1971 —
Rear lamp cluster
Close
A five-in-one rear lamp clustE developed for coach and publi service vehicle application b Lucas and considered suitabl for 12 or 24V system incorporates two-level signallin features — legally required b 1973 — and also meets currer ECE requirements.
The unit consists of a directio indicator and stop lamp whic are 'dual-level', a reversing lamr a tail lamp and a reflex reflectol Lenses on this unit have E approval.
The 'dual-level' lighting is a application which provides mor safety by altering the brightnee of the braking and directio indication signals according t day-time and night-time requirE ments.
The system has the necessal high intensity for day-time, but tower intensity — about quarter — to reduce glare i night.
A relay unit is inserted in 1existing wiring, with a smE modification, for the purpose I providing 'dual-level' lighting.
Cable termination to the re; lamp is by plug and socket ar the bulbs can be changed fro' the front via the removab three-piece independent len The lamp is flush-fitting with seating gasket from lamp body.
Made by: Joseph Lucas Lti Birmingham.