Q I am employed by a sand and ballast
24th December 1971
Page 31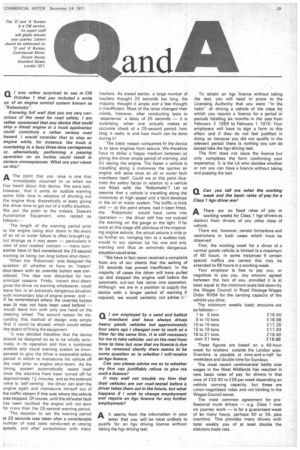 Page 31, 24th December 1971 —
Q I am employed by a sand and ballast
Close
merchant and have always driven heavy goods vehicles but approximately four years ago I changed over to work as a fitter for the same firm. It is still necessary for me to take vehicles out on the road from time to time but now that my licence is due to be renewed shortly there seems to be some question as to whether! will receive an hgv licence.
Can you please advise me as to whether my firm can justifiably refuse to give me such a licence?
It may well not trouble my firm that their vehicles are not road-tested before a driver takes them out in the future, but what happens if I wish to change employment and require an hgv licence for any further employment?
AIt seems from the information in your letter that you will be most unlikely to qualify for an hgv driving licence without taking the hgv driving test.
To obtain an hgv licence without taking the test, you will need to prove to the Licensing Authority that you were "in the habit" of driving a vehicle of the class for which you require a licence for a period or periods totalling six months in the year from February 2 1969 to February 1 1970. Your employers will have to sign a form to this effect and if they do not feel justified in doing so because you did not qualify in the relevant period there is nothing you can do except take the hgv driving test.
The firm does not issue the licence but only completes the form confirming your experience. It is the LA who decides whether or not you can have a licence without taking and passing the test.