a Can you tell me what the working week and the
24th December 1971
Page 31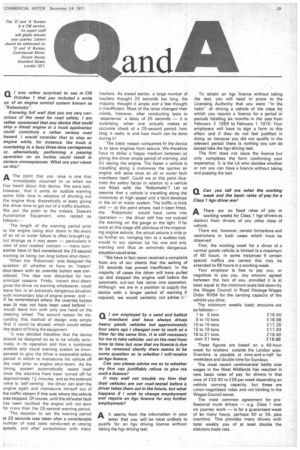 Page 31, 24th December 1971 —
a Can you tell me what the working week and the
Close
basic rates of pay for a Class 1 hgv driver are?
AThere are no fixed rates of pay or working weeks for Class 1 hgv drivers as distinct from drivers of any other class of vehicle.
There are, however, certain limitations and restrictions in both cases which must be observed.
First, the working week for a driver of a normal goods vehicle is limited to a maximum of 60 hours. In some instances if certain special traffics are carried this may be extended to 66 hours in a working week.
Your employer is free to pay you, or negotiate to pay you. any amount agreed between the two of you, provided it is at least equal to the minimum scale laid down by the Wages Council in Road Haulage Wages Order RH94 for the carrying capacity of the vehicle you drive.
The minimum weekly basic amounts are as follows:— 1 to 5 tons £16.50 5 to 10 tons £16.98 10 to 15 tons £17.35 15 to 18 tons £17.83 18 to 21 tons £18.40 over 21 tons £18.88 These figures are based on a 40-hour week for workers outside the London area. Overtime is payable at time-and-a-half for weekdays arid double time for Sundays.
The most recent controversial battle over wages in the West Midlands has resulted in new basic rates of pay for drivers in that area of £23.50 to £26 per week depending on vehicle carrying capacity, but these are union-negotiated rates and not binding in the Wages Council sense.
The most common agreement for professional trunk drivers — e.g. Class 1 men on journey work — is for a guaranteed week of so many hours, perhaps 50 or 55. plus overtime. This provides many drivers with total weekly pay of at least double the statutory basic rate.