Transport land use
24th December 1971
Page 30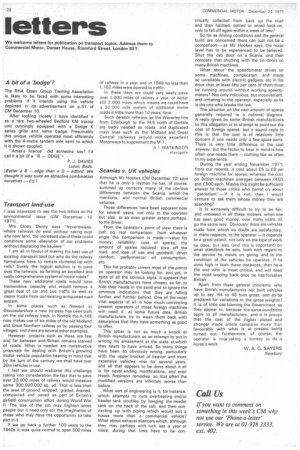 Page 30, 24th December 1971 —
Transport land use
Close
I was interested to see the two letters on the environmental issue (CM December 10 1971), Mrs Cicely Denny says "Nevertheless. where railways do exist without taking over any new land, the increased use of these could constitute some alleviation of our problems without displacing the hauliers."
I am all in favour of making the best use of existing transport land but why do the railway formations have to remain cluttered up with rails? Surely the logical solution is to pave over the railways, so forming an excellent and really comprehensive system of motor roads?
These new additional roads would have tremendous capacity and would remove a great deal of car and bus traffic as well as neavy trucks from our existing antiquated road system.
In some places such as Newent in Gloucestershire a new by-pass has been built on the old railway track. In Norfolk the A.149 now makes use of six miles of the old Midland and Great Northern railway so by-passing four villages, and there are several other examples.
However, projects such as these are few and far between and Britain remains starved of roads. What is needed are constructive proposals for dealing with Britain's growing motor vehicle population bearing in mind that by the turn of the century we shall have over 30m vehicles in use.
I feel we should welcome this challenge taking into consideration the fact that to pave over 20,000 miles of railway would measure some 300,000,000 sq. yd. That is less than the area of ground stripped, graded, drained, compacted and paved as part of Britain's airfield construction effort during World War II. The size of the job may frighten some people but it need only stir the imagination of those who may have the opportunity to take part in it.
If we go back a further 100 years to the 1840s it was quite normal to open 500 miles of railway in a year and in 1948 no less than 1.182 miles were opened to traffic In these days we could very easily pave over 1,000 miles of railway a year. or better still 2.000 miles which means we could have a 20.000 mile system of additional motor roads in little more than 10 years' time.
Such derelict railways as the Waverley line from Edinburgh to the M.6 north of Carlisle are badly needed as roads, and duplicated main lines such as the Midland arid Great Central railways would make excellent Motorways to supplement the M 1.
A I. WATKINSON Harrogate