cropper's column
24th December 1971
Page 29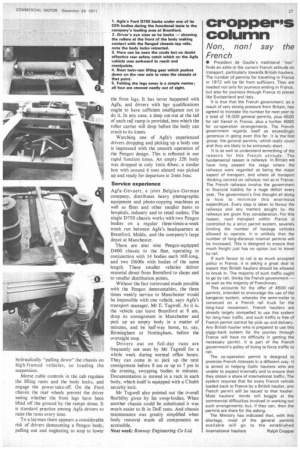 Page 29, 24th December 1971 —
cropper's column
Close
Non, non! say the French
• President de Gaulle's traditional "non" finds an echo in the current French attitude on transport, particularly towards British hauliers. The number of permits for travelling in France in 1972 will be far from sufficient. They are needed not only for journeys ending in France, but also for journeys through France to places like Switzerland and Italy.
It is true that the French government, as a result of very strong pressure from Britain, has agreed to increase the number for next year to a total of 19,000 general permits, plus 4500 for rail transit in France, plus a further 4000 for co-operation arrangements. The French government regards itself as exceedingly generous in going even this far, It is the first group, the general permits, which really count and they are likely to be extremely short.
It is as well to understand something of the reasons for this French attitude. The fundamental reason is railways. In Britain we have long passed the stage where the railways were regarded as being the major aspect of transport, and where all transport thinking centred on railways; not so in France. The French railways involve the government in financial liability for a huge deficit every. year The government's first thought all along is how to minimize this enormous expenditure, Every step is taken to favour the railways and any matters sought by the railways are given first consideration. For this reason, road transport within France is controlled by a strict permit system, severely limiting the number of haulage vehicles allowed to operate, it is unlikely that the number of long-distance internal permits will be increased. This is designed to ensure that much freight just has no option but to travel by rail.
If such favour to rail is so much accepted policy in France, it is asking a great deal to expect that British hauliers should be allowed to break in. The majority of such traffic ought to go by rail, thinks the French government— as well as the majority of Frenchmen.
This accounts for the offer of 4500 rail permits, intended to encourage the use of the kangaroo system, whereby the semi-trailer is conveyed on a French rail truck for the long-haul movement. French hauliers are already largely compelled to use this system for long-haul traffic, and such traffic is free of French permit control for pick-up and delivery. Any British haulier who is prepared to use this piggy-back system for the journey through France will have no difficulty in getting the necessary permit. It is part of the French government's policy of trying to force traffic to rail.
The co-operation permit is designed to promote French interests in a different way. It is aimed at helping Gallic hauliers who are unable to expand internally and to ensure that they obtain a share of international traffic. The system requires that for every French vehicle loaded back to France by a British haulier, one French permit will be issued to that haulier. Most hauliers' minds will boggle at the commercial difficulties involved in working out such arrangements; but, if they can, then the permits are there for the asking.
The Ministry has indicated that, with this shortage, most of the general permits available will go to the established international hauliers Ralph Cropper