topic
24th December 1971
Page 27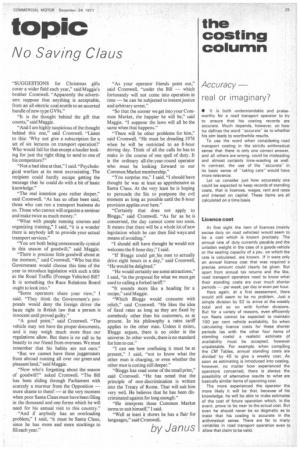 Page 27, 24th December 1971 —
topic
Close
No Saving Claus
"SUGGESTIONS for Christmas gifts cover a wider field each year," said Mag,gie's brother Cromwell. "Apparently the advertisers suppose that anything is acceptable, from an all-electric coal scuttle to an assorted bundle of new-type G V9 s."
"It is the thought behind the gift that counts," said Maggie.
"And I am highly suspicious of the thought behind this one," said Cromwell. "Listen to this: 'Why not give a subscription for a set of six lectures on transport operation?' Who would fall for that except a haulier looking for just the right thing to send to one of his competitors?"
"Not a bad idea at that," I said. "Psychological warfare at its most excruciating. The recipient could hardly escape getting the message that he could do with a bit of basic knowledge."
"The real intention goes rather deeper," said Cromwell. "As has so often been said, those who can run a transport business do so. Those who cannot will organize a seminar and make twice as much money."
"What with people running courses and organizing training," I said, "it is a wonder there is anybody left to provide your actual transport services."
"You are both being unnecessarily cynical in this season of goodwill," said Maggie.
"There is precious little goodwill about at the moment," said Cromwell. "Who but this Government would choose this time of the year to introduce legislation with such a title as the Road Traffic (Foreign Vehicles) Bill? It is something the Race Relations Board ought to look into."
"Some operators share your view," I said. "They think the Government's proposals would deny the foreign driver the basic right in British law that a person is innocent until proved guilty."
"A good point," said Cromwell. "The vehicle may not have the proper documents, and it may weigh much more than our regulations allow. But there is no call to be beastly to our friend from overseas. We must remember that his habits are not ours."
"But we cannot have these juggernauts from abroad running all over our green and pleasant land," said Maggie.
"Now who's forgetting about the season of goodwill?" asked Cromwell. "The Bill has been sliding through Parliament with scarcely a murmur from the Opposition — more shame to them! — at the very moment when poor Santa Claus must have been filling in the thousand and one forms which he will need for his annual visit to this country."
"And if anybody has an overloading problem," I said, "it must be Santa Claus, since he has more and more stockings to fill each year."
"As your operator friends point out," said Cromwell, "under the Bill — which fortunately will not come into operation in time — he can be subjected to instant justice and arbitrary arrest."
"So that the sooner we get into your Common Market, the happier he will be," said Maggie. "I suppose the laws will all be the same when that happens."
"There will be other problems for him," said Cromwell. "He must be dreading 1976 when he will be restricted to an 8-hour driving day. Think of all the calls he has to make in the course of one spell of duty. It is the ordinary all-the-year-round operator who must be looking forward to our Common Market membership."
-You surprise me," I said. "I should have thought he was at least as apprehensive as Santa Claus. At the very least he is hoping to persuade the Six to postpone the evil moment as long as possible until the 8-hour provision applies over here."
"Certainly that does not apply to Bloggs," said Cromwell. "As far as he is concerned, the day cannot come too soon. It means that there will be a whole lot of new legislation which he can then find ways and means of avoiding.
"I should still have thought he would not welcome the 8-hour day," I said.
"If Bloggs could get.his men to actually drive eight hours in a day," said Cromwell, "He would be delighted."
"He would certainly see some attractions," 1 said, "in the proposal for what we must get used to calling a forked tariff."
"It sounds more like a heading for a recipe," said Maggie.
"Which Bloggs would consume with relish," said Cromwell. "He likes the idea of fixed rates as long as they are fixed by somebody other than his customers, as at present. In his philosophy a rates tariff applies to the other man. Unless it exists, Bloggs argues, there is no order in the universe_ In other words, there is no standard for him to cut."
"I can see how confusing it must be at present," I said, "not to know what the other man is charging, or even whether the other man is cutting still deeper."
"Bloggs has read some of the small print," said Cromwell. "He has noted that the principle of non-discrimination is written into the Treaty of Rome. That will suit him very well. He believes that he has been discriminated against for long enough."
"He interprets these Common Market terms to suit himself,"! said.
"Well at least it shows he has a flair for languages," said Cromwell.
by Janus