road and workshop
24th December 1971
Page 26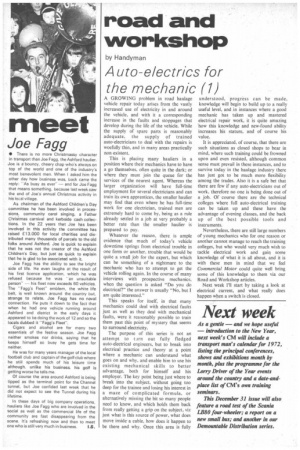 Page 26, 24th December 1971 —
road and workshop
Close
by Handyman
Auto-electrics for the mechanic (1)
A GROWING problem in road haulage vehicle repair today arises from the vastly increased use of electricity in and around the vehicle, and with it a corresponding increase in the faults and stoppages that develop during the life of the vehicle. While the supply of spare parts is reasonably adequate. the supply of trained auto-electricians to deal with the repairs is woefully thin, and in many areas practically nonexi sten t.
This is placing many hauliers in a position where their mechanics have to have
g0 themselves, often quite in the dark: or where they must join the queue for the services of the nearest agent. Whereas the larger organization will have full-time employment for several electricians and can train its own apprentices, the smaller haulier may find that even where he has full-time work for one electrician, trained men are extremely hard to come by. being as a rule already settled in a job at very probably a better rate than the smaller haulier is prepared to pay.
Whatever the reason. there is ample evidence that much of today's vehicle downtime springs from electrical trouble in one form or another, trouble that would be quite a small job for the expert, but which can be something of a nightmare to the mechanic who has to attempt to get the vehicle rolling again. In the course of many interviews with prospective mechanics, when the question is asked "Do you do electrical?" the answer is usually "No. but I am quite interested."
This speaks for itself, in that many mechanics could deal with electrical faults just as well as they deal with mechanical faults, were it reasonably possible to train them past this point of mystery that seems to surround electricity.
The purpose of this series is not an attempt to tarn out fully fledged auto-electrical engineers, but to break into electrical practice and theory at a point where a mechanic can understand what goes on and why. and enable him to use his existing mechanical skills to better advantage, both for himself and his employer. The key point being just where to break into the subject, without going too deep for the trainee and losing his interest in a maze of complicated formula, or alternatively missing the bit so many people need to know, and which holds them back from really getting a grip on the subject, viz just what is this source of' power, what does move inside a cable, how does it happen to be there and why. Once this area is fully
understood, progress can be made, knowledge will begin to build up to a really useful level, and in instances where a good mechanic has taken up and mastered electrical repair work, it is quite amazing how this knowledge and new-found ability increases his stature, and of course his value.
It is appreciated, of course, that there are such situations as closed shops to bear in mind, where such training could be frowned upon and even resisted, although common sense must prevail in these instances, and to survive today in the haulage industry there has just got to be much more flexibility among the trades. Also it is a safe bet that there are few if any auto-electricians out of work, therefore no one is being done out of a job. Of course there are the technical colleges where full auto-electrical training can be taken up and these have the advantage of evening classes, and the back up of the best possible tools and instruments.
Nevertheless, there are still large numbers of young mechanics who for one reason or another cannot manage to reach the training colleges, but who would very much wish to tackle electrical work and gain some knowledge of what it is all about, and it is with these men in mind that we feel Commercial Motor could quite well bring some of this knowledge to them via our Road and Workshop articles.
Next week I'll start by taking a look at electrical current, and what really does happen when a switch is closed.