meet
24th December 1971
Page 26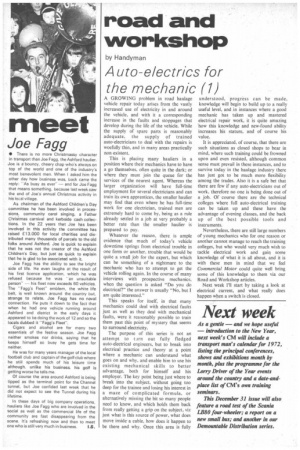 Page 26, 24th December 1971 —
meet
Close
Joe Fagg
• There is no more Christmassy character in transport than Joe Fagg, the Ashford haulier. Joe is a bouncy, cheery chap who's always on top of the world and one of the industry's most benevolent men. When I asked him the other day how business was, back came the reply: "As busy as ever" — and for Joe Fagg that means something, because last week saw the end of Joe's annual Christmas activity in his local village.
As chairman of the Ashford Children's Day committee he has been involved in processions, community carol singing, a Father Christmas carnival and kerbside cash collections. In the 22 years that Joe has been involved in this activity the committee has raised £13,000 for local charities and distributed many thousands of parcels to the old folks around Ashford. Joe is quick to explain that he was not the creator of the Ashford Children's Day, but just as quick to explain that he is glad to be associated with it.
Joe Fagg has the ability to see the bright side of life. He even laughs at the result of his first licence application, which he was refused because he was "an unsuitable person" his fleet now exceeds 60 vehicles. The "Fagg's Fleet" emblem, the white life belt, is well known around the country but, strange to relate. Joe Fagg has no naval connection. He puts it down to the fact that when he had one vehicle running around Ashford and district in the early days it appeared to be doing the work of 12 and so the locals dubbed it "Fagg's Fleet".
Cigars and alcohol are for many two essentials of the festive season. Joe Fagg neither smokes nor drinks, saying that he keeps himself so busy he gets time for neither.
He was for many years manager of the local football club and captain of the golf club where he still spends much of his leisure time although, unlike his business, his golf is getting worse he tells me.
Of course the area around Ashford is being tipped as the terminal point for the Channel tunnel, but Joe confided last week that he did not expect to see the Tunnel during his lifetime.
In these days of big company operations, hauliers like Joe Fagg who are involved in the social as well as the commercial life of the community are fast disappearing from the scene. It's refreshing now and then to meet one who is still very much in business. IS.