bird's eye view
24th December 1971
Page 25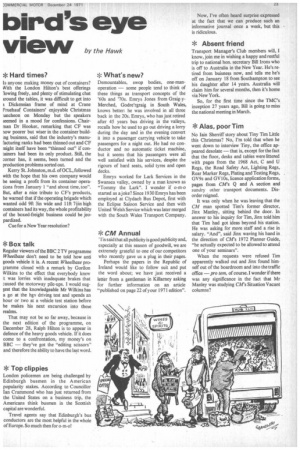 Page 25, 24th December 1971 —
bird's eye view
Close
by the Hawk * Hard times?
Is anyone making money out of containers? With the London Hilton's best offerings 'lowing freely, and plenty of stimulating chat iround the tables, it was difficult to get into s. Dickensian frame of mind at Crane Fruehauf Containers' enjoyable Christmas [uncheon on Monday but the speakers seemed in a mood for confessions. Chairman Dr Hooker, remarking that CF was sow poorer but wiser in the container building business, said that the industry's manufacturing ranks had been thinned out and CF might itself have been "thinned out" if containers had been its only product. Still, the corner has, it seems, been turned and the production problems sorted out.
Kerry St. Johnston, m.d. of OCL, followed with the hope that his own company would be seeing a profit from its container operations from January 1 "and about time, too". But, after a nice tribute to CF's products, he warned that if the operating brigade which wanted odd 9ft 3in wide and I lft 7fin high containers had its way, the whole profitability of the boxed-freight business could be jeopardized.
Cue for a New Year resolution?
*Box talk
Regular viewers of the BBC 2 TV programme Wheelbase don't need to be told how anti goods vehicle it is. A recent Wheelbase programme closed with a remark by Gordon Wilkins to the effect that everybody knew it was lorries with inadequate brakes that caused the motorway pile-ups. I would suggest that the knowledgeable Mr Wilkins has a go at the hgv driving test and spends an hour or two at a vehicle test station before he makes his next excursion into these realms.
That may not be so far away, because in the next edition of the programme, on December 28, Ralph Hilton is to appear in defence of the heavy goods vehicle. If it does come to a confrontation, my money's on BBC — they've got the "editing scissors" and therefore the ability to have the last word.
* Top clippies
London policemen are being challenged by Edinburgh busmen in the American popularity stakes. According to Councillor Ian Cramrnond who has just returned from the United States on a business trip, the Americans think busmen in the Scottish capital are wonderful.
Travel agents say that Edinburgh's bus conductors are the most helpful in the whole of Europe. So much then for o-m-o!
* What's new?
Demountables, swop bodies, onemanoperation — some people tend to think of these things as transport concepts of the '60s and '70s. Emrys Jones from Graig-yMerched, Godre'rgraig in South Wales, knows better: he was involved in all three back in the 20s. Emrys, who has just retired after 45 years bus driving in the valleys, recalls how he used to go out driving a lorry during the day and in the evening convert it into a passenger carrying vehicle to take passengers for a night out. He had no con-. ductor and no automatic ticket machine, but it seems that his passengers were all well satisfied with his services, despite the rigours of hard seats, solid tyres and open decks.
Ernrys worked for Lark Services in the Swansea valley, owned by a man known as "Tommy the Lark". I wonder if o-m-o started as a joke? Since 1930 Emrys has been employed at Clydach Bus Depot, first with the Eclipse Saloon Service and then with United Welsh Service which was later merged with the South Wales Transport Company.
* CM Annual
-Els said that all publicity is good publicity and, especially at this season of goodwill, we are extremely grateful to one of our competitors who recently gave us a plug in their pages.
Perhaps the papers in the Republic of Ireland would like to follow suit and put the word about; we have just received a letter from a gentleman in Killarney asking for further information on an article "published on page 22 of your 1971 edition". Now, I've often heard surprise expressed at the fact that we can produce such an informative journal once a week, but this is ridiculous.
* Absent friend
Transport Manager's Club members will, I know, join me in wishing a happy and restful trip to national hon. secretary Bill Irons who is off to Australia in the New Year. He's retired from buisness now, and tells me he's off on January 18 from Southampton to see his daughter after 14 years. Australia will claim him for several months, then it's home via New York.
So, for the first time since the TMC's inception 27 years ago, Bill is going to miss the national meeting in March.
* Alas, poor Tim
No lain Sherriff story about Tiny Tim Little this Christmas? No, I'm told that when he went down to interview Tiny, the office appeared desolate — that is, except for the fact that the floor, desks and tables were littered with pages from the 1968 Act, C and U Regs, the Road Safety Act, Lighting Regs, Rear Marker Kegs, Plating and Testing Regs, GV9s and GV10s, licence application forms, pages from CM's Q and A section and sundry other transport documents. Disorder reigned.
It was only when he was leaving that the CM man spotted Tim's former director, Jinx Manley, sitting behind the door. In answer to his inquiry for Tim, Jinx told him that Tim had got ideas beyond his station. He was asking for more staff and a rise in salary. "And", said Jinx waving his hand in the direction of CM's 1972 Planner Guide, "he actually expected to be allowed to attend one of your seminars".
When the requests were refused Tim apparently walked out and Jinx found himself out of the boardroom and into the traffic office pro tern, of course. I wonder if there was any significance in the fact that Mr Manley was studying CM's Situation Vacant columns?