The 1915 Peerless TC4 four-tonner
24th December 1971
Page 19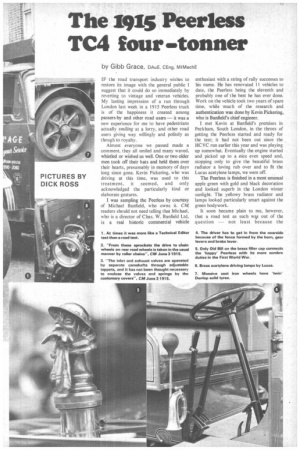 Page 20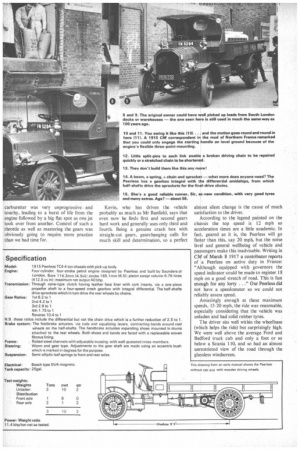 Page 21
Page 19, 24th December 1971 —
The 1915 Peerless TC4 four-tonner
Close
by Gibb Grace, DAuE. CEng, MlMechE
IF the road transport industry wishes to restore its image with the general public I suggest that it could do so immediately by reverting to vintage and veteran vehicles. My lasting impression of a run through London last week in a 1915 Peerless truck is of the happiness it created among passers-by and other road users — it was a new experience for me to have pedestrians actually smiling at a lorry, and other road users giving way willingly and politely as though to royalty.
Almost everyone we passed made a comment, they all smiled and many waved, whistled or wished us well. One or two older men took off their hats and held them over their hearts, presumably in memory of days long since gone. Kevin Pickering, who was driving at this time, was used to this treatment, it seemed, and only acknowledged the particularly kind or elaborate gestures.
I was sampling the Peerless by courtesy of Michael Banfield, who owns it. CR readers should not need telling that Michael, who is a director of Chas. W. Banfield Ltd, is a real historic commercial vehicle enthusiast with a string of rally successes to his name. He has renovated 11 vehicles to date, the Peerless being the eleventh and probably one of the best he has ever done. Work on the vehicle took two years of spare time, while much of the research and authentication was done by Kevin Pickering, who is Banfield's chief engineer.
I met Kevin at Banfield's premises in Peckham, South London, in the throes of getting the Peerless started and ready for the test; it had not been out since the HCVC run earlier this year and was playing up somewhat. Eventually the engine started and picked up to a nice even speed and, stopping only to give the beautiful brass radiator a loving rub over and to fit the Lucas acetylene lamps, we were off.
The Peerless is finished in a most unusual apple green with gold and black decoration and looked superb in the London winter sunlight. The yellowy brass radiator and lamps looked particularly smart against the green bodywork.
It soon became plain to me, however, that a road test as such was out of the question -not least because the carburetter was very unprogressiveand touchy, leading to a burst of life from the engine followed by a big flat spot as one jet took over from another. Control of such a throttle as well as mastering the gears was obviously going to require more practice than we had time for. Kevin, who has driven the vehicle probably as much as Mr Banfield, says that even now he finds first and second gears hard work and generally uses only third and fourth. Being a genuine crash box with straight-cut gears, gearchanging calls for much skill and determination, so a perfect almost silent change is the cause of much satisfaction to the driver.
According to the legend painted on the chassis the top speed is 12 mph so acceleration times are a little academic. In fact, geared as it is, the Peerless will go faster than this, say 20 mph, but the noise level and general wellbeing of vehicle and passengers make this inadvisable. Writing in CM of March 8 1917 a contributor reports of a Peerless on active duty in France: "Although equipped with governors the speed indicator could be made to register 18 mph on a good stretch of road. This is fast enough for any lorry . ." Our Peerless did not have a speedometer so we could not reliably assess speed.
Amazingly enough at these maximum speeds, 15-20 mph, the ride was reasonable, especially considering that the vehicle was unladen and had solid rubber tyres.
The driver sits well within the wheelbase (which helps the ride) but surprisingly high. We were well above the average Ford and Bedford truck cab and only a foot or so below a Scania 110, and so had an almost unrestricted view of the road through the classless windscreen. For a 4-tonner the Peerless is not unduly heavy at 3.5 tons unladen — a modern 7.5-ton-gvw truck could well weigh 3 tons mladen. The declared plated weights serve .o bring home the ancestry of the motor vehicle. The front and rear axles are referred .0 as fore and hind, as applied to legs of a horse!
The steering is heavy by modern ;tandards but very precise. Most present-day steering boxes have worm and ;ector mechanisms but the Peerless has a ;omplete gear which can be repositioned o present an unworn part of the gear for mg agement.
The chassis is completely original, ncluding the wheels. Kevin Pickering is particularly proud of the front wheels which ire original and made of American hickory, t favourite wood of the period; they are mounted on taper-roller bearings in the steel hub. The rear wheels are massive iron -.:astings and must weigh about 4cwt each. In the original CM write-up 55 years ago .hey were described as 'artillery type' which was the term for this type of spoked wheel
the period.
The cab and bodywork are not original Dut are authentic; they were built and painted at Mr Banfield's depot by his own Ara The finish to chassis and body is peautifully done and I was able to have a wick word with the painter. Altogether ;me 30 coats of paints and varnish were
applied, with the inevitable rubbing down between. The signwriting is covered, in the best tradition, by the final varnish coat. Genuine gold leaf was used for signwriting the original owner's name and address and I was amazed that two people on our London run remembered Mr Mersh and his premises in Albion Street. Albion Street still exists but today the whole area has been completely rebuilt with tall blocks of flats.
After a forced stop because of a flooded carburetter, and a spot of lunch, we made our way hack to the depot at Peckham. By then the sun had gone in, a chill December breeze had come up and my mind went back to CM's 1915 correspondent and to what it must have been like on a battlefield in a French winter. Our intrepid correspondent spoke very highly of the Peerless, recounting a tale of how he went off the road in fog in the small hours one night. Of the subsequent extrication he says proudly: "I did not believe there was another lorry in France that would have climbed out of that hole and thereby saved me several hours' wait in the fog and frost ..."
He had grown very fond of the Peerless for its doggedness and reliability over the months and I can imagine his feelings. But for me the Peerless will remain in the memory as a happy vehicle which raised a smile and laugh at every turn of the wheel. Is that what they mean by public relations?