PEOPLE
24th December 1971
Page 17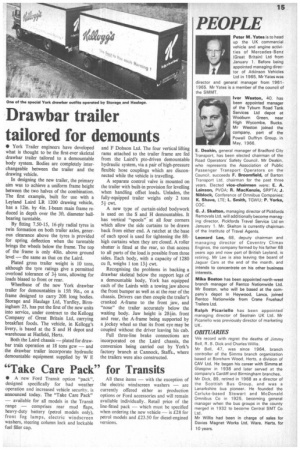 Page 17, 24th December 1971 —
PEOPLE
Close
Peter M. Yates is to head up the UK commercial vehicle and engine activities of Mercedes-Benz (Great Britain) Ltd from January 1. Before being appointed managing director of Atkinson Vehicles Ltd in 1965, Mr Yates was director and general manager from 19611965. Mr Yates is a member of the council of the SM MT.
Ivor Weston, 40. has been appointed manager of the Tyburn Road Tank Services Ltd depot at Wooburn Green. near High Wycombe, Bucks. Mr Weston joined the company, part of the Powell Duffryn Group, in May, 1966.
E. Deakin, general manager of Bradford City Transport, has been elected chairman of the Road Operators Safety Council. Mr Deakin, who represents the Association of Public Passenger Transport Operators on the Council, succeeds F. Broomfield, of Barton Transport Ltd, chairman for the past three years. Elected vice-chairmen were: E. A. Lainson, PV0A; R. MacKenzie, SRPTA; J. Niblock, Conference of Omnibus Companies; K. Shave, LTE; L. Smith, TGWU: P. Yorke, CO C.
G. J. Skelton, managing director of Pickfords Removals Ltd, will additionally become managing director, Pickfords Travel Service Ltd on January 1. Mr. Skelton is currently chairman. of the Institute of Travel Agents.
Leonard Lee, 68, deputy chairman and managing director of Coventry Climax Engines, the company formed by his father 68 years ago and now part of British Leyland, is retiring. Mr Lee is also leaving the board of Jaguar Cars at the end of the month, and intends to concentrate on his other business interests.
Mike Boston has been appointed north-west branch manager of Rentca Nationwide Ltd. Mr Boston, who will be based at the company's depot in Heywood, Lanes, joined Rentco Nationwide from Crane Fruehauf Trailers Ltd.
Ralph Picariello has been appointed managing director of Seatrain UK Ltd. Mr Picariello was previously director of marketing UK
OBITUARIES
We record with regret the deaths of Jimmy Bell, R. B. Dick and Charles Willis.
Mr Bell, 47, was since 1964, branch controller of the Simms branch organization based at Boreham Wood, Herts, a division of CAV Ltd. He began his career with Simms at Glasgow in 1938 and later served at the company's Cardiff and Birmingham branches. Mr Dick, 89, retired in 1968 as a director of the Scottish Bus Group, and was a Lanarkshire bus pioneer. He founded the Carluke-based Stewart and McDonald Omnibus Co in 1925. becoming general manager when the bus groups in the county merged in 1932 to become Central SMT Co Ltd.
Mr Willis had been in charge of sales for Davies Magnet Works Ltd. Ware. Herts, for 10 years.
Tags
People
:
Mike Boston
,
B. Dick
,
Leonard Lee
,
R. B. Dick
,
Peter M. Yates
,
G. J. Skelton
,
Ralph Picariello
,
Ivor Weston
,
E. Deakin
,
Charles Willis
,
Jimmy Bell