Photoelectric load indicator from Telehoist
24th December 1971
Page 16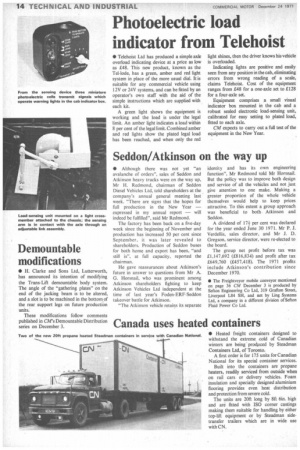 Page 16, 24th December 1971 —
Photoelectric load indicator from Telehoist
Close
• Telehoist Ltd has produced a simple axle overload indicating device at a price as low as £48. This new product, known as the Tel-lode, has a green, amber and red light system in place of the more usual dial. It is suitable for any commercial vehicle using 12V or 24V systems, and can be fitted by an operator's own staff with the aid of the simple instructions which are supplied with each kit.
A green light shows the equipment is working and the load is under the legal limit. An amber light indicates a load within 8 per cent of the legal limit. Combined amber and red lights show the plated legal load has been reached, and when only the red light shines, then the driver knows his vehicle is overloaded.
Indicating lights are positive and easily seen from any position in the cab, eliminating errors from wrong reading of a scale, claims Telehoist. Cost of the equipment ranges from £48 for a one-axle set to £128 for a four-axle set.
Equipment comprises a small visual• indicator box mounted in the cab and a robust sealed electronic load-sensing unit, calibrated for easy setting to plated load, fitted to each axle.
CM expects to carry out a full test of the equipment in the New Year.