Brighton bus blitz
24th December 1971
Page 15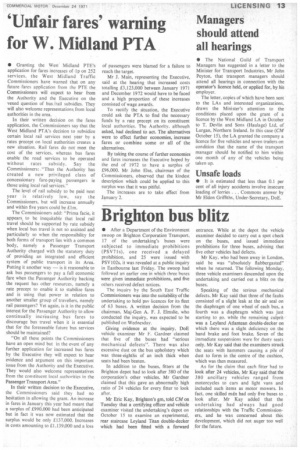 Page 15, 24th December 1971 —
Brighton bus blitz
Close
• After a Department of the Environment swoop on Brighton Corporation Transport, 17 of the undertaking's buses were subjected to immediate prohibitions (PSV71s), one received a delayed prohibition, and 25 were issued with PSVIO2s, it was revealed at a public inquiry in Eastbourne last Friday. The swoop had followed an earlier one in which three buses were given immediate prohibitions, and five others received defect notices.
The inquiry by the South East Traffic Commissioners was into the suitability of the undertaking to hold psv licences for its fleet of 63 buses. A written decision from the chairman, Maj-Gen A. F. J. Elmslie, who conducted the inquiry, was expected to be published on Wednesday.
Giving evidence at the inquiry. DoE vehicle examiner Mr F. Gardner claimed that five of the buses had "serious mechanical defects". There was also excessive dust on the bus upholstery which was three-eighths of an inch thick when seats had been beaten.
In addition to the buses, fitters at the Brighton depot had to look after 380 of the corporation's other vehicles. Mr Gardner claimed that this gave an abnormally high ratio of 24 vehicles for every fitter to look after.
Mr Eric Kay, Brighton's gm, told CM on Tuesday that a certifying officer and vehicle examiner visited the undertaking's depot on October 15 to examine an experimental, rear staircase Leyland Titan double-decker which had been fitted with a forward
entrance. While at the depot the vehicle examiner decided to carry out a spot check on the buses, and issued immediate prohibitions for three buses, advising that five other vehicles had defects.
Mr Kay, who had been away in London, said he was "absolutely flabbergasted" when he returned. The following Monday, three vehicle examiners descended upon the undertaking and carried out a blitz on the buses.
Speaking of the serious mechanical defects. Mr Kay said that three of the faults consisted of a slight leak at the air seal on the diaphragm of one wheel of each bus, a fourth was a diaphragm which was just starting to go. while the remaining culprit was a Leyland Atlantean double-decker on which there was a slight deficiency on the hand brake and foot brake. Seven of the immediate suspensions were for dusty seats only. Mr Kay said that the examiners struck the seats with hammers causing a pile of dust to form in the centre of the cushion, which was then measured.
As for the claim that each fitter had to look after 24 vehicles. Mr Kay said that the 380 ancillary vehicles ranged from motorcycles to cars and light vans and included such items as motor mowers. In fact, one skilled mdn had only five buses to look after. Mr Kay added that the undertaking had always had good relationships with the Traffic Commissioners, and he was concerned about this development, which did not auger too well for the future.