'Servicing is not inspection' warns LA
24th December 1971
Page 14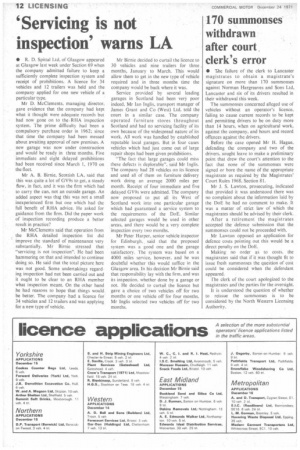 Page 14, 24th December 1971 —
'Servicing is not inspection' warns LA
Close
• R. D. Spittal Ltd, of Glasgow appeared at Glasgow last week under Section 69 when the company admitted failure to keep a sufficiently complete inspection system and receipt of prohibitions. A licence for 34 vehicles and 12 trailers was held and the company applied for one new vehicle of a particular type.
Mr D. McClements, managing director, gave evidence that the company had kept what it thought were adequate records but had now gone on to the ,R HA inspection system. The prime difficulty had been a compulsory purchase order in 1962; since that time the company had been messed about awaiting approval of new premises. A new garage was now under construction and would be ready in three months. Five immediate and eight delayed prohibitions had been received since March 1, 1970 on the fleet.
Mr A. B. Birnie, Scottish LA, said that this was quite a lot of GV9s to get, a steady flow, in fact. and it was the firm which had to carry the can, not an outside garage. An added aspect was that this was not a small inexperienced firm but one which had the full benefit of RHA advice. He asked for guidance from the firm. Did the paper work of inspection recording produce a better result in practice?
Mr McClements said that operation from the RHA detailed inspection list did improve the standard of maintenance very substantially. Mr Birnie stressed that "servicing is not inspection". He had been hammering on that and intended to continue doing so. He said that the total picture here was not good. Some undertakings regarding inspection had not been carried out and it ought to be clear to an RHA member what inspection meant. On the other hand he had reasons to hope that things would be better. The company had a licence for 34 vehicles and 12 trailers and was applying for a new type of vehicle. Mr Birnie decided to curtail the licence to 30 vehicles and nine trailers for three , months, January to March. This would allow them to get in the new type of vehicle required and in three months time the company would be back where it was.
Service provided by several leading garages in Scotland had been verY poor indeed, Mr Ian Inglis, transport manager of James Grant and Co (West) Ltd, told the court in a similar case. The company operated furniture stores throughout Scotland and had no servicing facility of its own because of the widespread nature of its work. All work was handled by established reputable local garages. But in four Cases vehicles which had just come out of large repair shops had been given prohibitions.
"The fact that large garages could miss these defects is deplorable", said Mr Inglis. The company had 28 vehicles on its licence and used all of them on furniture delivery work doing an average 2000 miles per month. Receipt of four immediate and five delayed GV9s were admitted. The company now proposed to put all its West of Scotland work into one particular garage which had guaranteed a service system to the requirements of the DoE. Similar selected garages would be used in other areas, and there would be a very complete inspection every two months.
Mr Peter Harper, senior vehicle inspector for Edinburgh.. said that the proposed system was a good one and the garage satisfactory. The system was based on a 4000 miles service, however, and he was doubtful whether this would suffice in the Glasgow area. In his decision Mr Birnie said that responsibility lay with the firm, and was its inspection, whether done by a garage or not. He decided to curtail the licence but gave a choice of two vehicles off for two months or one vehicle off For four months. Mr Inglis selected two vehicles off for two months.