170 summonses withdrawn after court.
24th December 1971
Page 14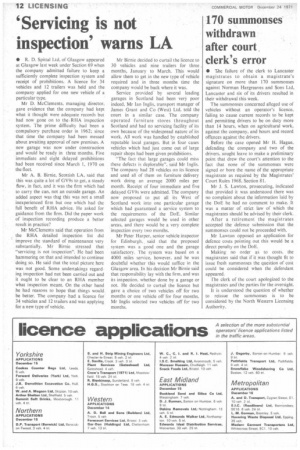 Page 14, 24th December 1971 —
170 summonses withdrawn after court.
Close
clerk's error
• The failure of the clerk to Lancaster magistrates to obtain a magistrate's signature on more than 170 summonses against Norman Hargreaves and Sons Ltd, Lancaster and six of its drivers resulted in their withdrawal this week.
The summonses concerned alleged use of vehicles without an operator's licence, failing to cause current records to be kept and permitting drivers to be on duty more than 14 hours, when on agricultural work, against the company, and hours and record offences against the drivers.
Before the case opened Mr H. Hague, defending the company and two of the drivers, sought leave to make a preliminary point that drew the court's attention to the fact that none of the summonses were signed or bore the name of the appropriate magistrate as required by the Magistrates' Court Rules 1968, Section SI.
Mr .1. S. Lawton, prosecuting, indicated that provided it was understood there was no complaint about the information laid by the DoE he had no comment to make. It was a matter of strict law of which the magistrates should be advised by their clerk.
After a retirement the magistrates accepted the defence submission that the summonses could not be proceeded with_ Mr Lawton opposed an application for defence costs pointing out this would be a direct penalty on the DoE.
Making no order as to costs. the magistrates said that if it was thought fit to issue fresh summonses the question of cost could be considered when the defendant appeared.
f he clerk of the court apologized to the magistrates and the parties for the oversight.
It is understood the question of whether to reissue the summonses is to be considered by the North Western Licensing Authority.