Legal Eagle distrains buses
24th December 1971
Page 13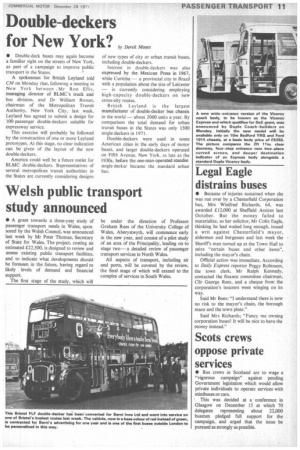 Page 13, 24th December 1971 —
Legal Eagle distrains buses
Close
• Because of injuries sustained when she was run over by a Chesterfield Corporation bus, Mrs Winifred Richards, 64, was awarded £12,000 at Sheffield Assizes last October. But the money failed to materialize, so her solicitor, Mr Colin Eagle, thinking he had waited long enough, issued a writ against Chesterfield's mayor, aldermen and burgesses and last week the Sheriff's men turned up at the Town Hall to seize "certain buses and other items", including the mayor's chain.
Official action was immediate. According to Daily Express reporter Peggy Robinson, the town clerk, Mr Ralph Kennedy, contacted the finance committee chairman, Cllr George Rees, and a cheque from the corporation's insurers went winging on its way.
Said Mr Rees: "I understand there is now no risk to the mayor's chain, the borough mace and the town plate."
Said Mrs Richards; "Fancy me owning corporation buses! It will be nice to have the money instead."