Double-deckers for New York?
24th December 1971
Page 13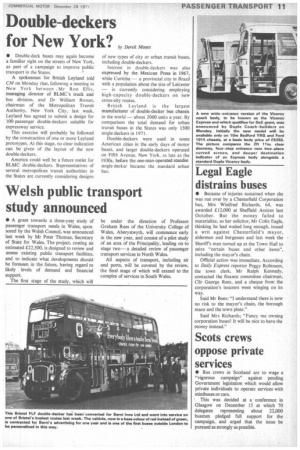 Page 13, 24th December 1971 —
Double-deckers for New York?
Close
• Double-deck buses may again become a familiar sight on the streets of New York, as part of a campaign to improve public transport in the States.
A spokesman for British Leyland told CM on Monday that, following a meeting in New York between .Mr Ron Ellis. managing director of BLMC's truck and bus division, and Dr William Ronan, chairman of the Metropolitan Transit Authority, New York City, last week, Leyland has agreed to submit a design for 100-passenger 'double-deckers suitable for expressway service.
This exercise will probably be followed by the construction of one or more Leyland prototypes. At this stage, no clear indication can be given of the layout of the new double-deckers.
America could well be a future outlet for BLMC double-deckers. Representatives of several metropolitan, transit authorities in the States are currently considering designs of new types of city or urban transit buses. including double-deckers.
Interest in double-deckers was also expressed by the Mexican Press in 1967, while Curitiba — a provincial city in Brazil with a population about the size of Leicester — is currently considering employing high-capacity double-deckers on new cross-city routes.
British Leyland is the largest manufacturer of double-decker bus chassis in the world — about 2000 units a year. By comparison the total demand for urban transit buses in the States was only 1500 single-deckers in I 971.
Double-deckers were used in some American cities in the early days of motor buseS, and larger double-deckers operated on Fifth Avenue. New York. as late as the 1930s, before the one-man-operated standee single-decker became the standard urban bus.