Midland Red breaks even and orders 58 Nationals
24th December 1971
Page 12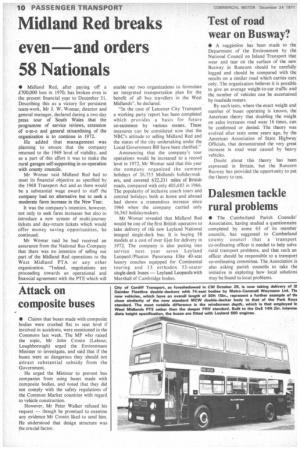 Page 12, 24th December 1971 —
Midland Red breaks even and orders 58 Nationals
Close
• Midland Red, after paying off a £700,000 loss in 1970, has broken even in the present financial year to December 31. Describing this as a victory for persistent team-work, Mr J. W. Womar, director and general manager, declared during a two-day press tour of South Wales that the programme of service reviews, extension of o-m-o and general streamlining of the organization is to continue in 1972.
He added that management was planning to ensure that the company returned to the 1969 level of viability, and as a part of this effort it was to make the rural garages self-supporting in co-operation with county councils.
Mr Womar said Midland Red had to meet its financial objective as specified by the 1968 Transport Act and as there would be a substantial wage award to staff the company had no alternative but to seek a moderate fares increase in the New Year.
It was the company's intention, however, not only to seek fares increases but also to introduce a new system of multi-journey tickets and day-return tickets which would offer money saving opportunities, he continued.
Mr Womar said he had received an assurance from the National Bus Company that there was no intention of selling out part of the Midland Red operations to the West Midland PTA or any other organization. "Indeed, negotiations are proceeding towards an operational and financial agreement with the PTE which will enable our two organizations to formulate an integrated transportation plan for the benefit of all bus travellers in the West Midlands", he declared.
"In the case of Leicester City Transport a working party report has been completed which provides a basis for future co-existence by various means. These measures can be considered now that the NBC's attitude to selling Midland Red and the status of the city undertaking under the Local Government Bill have been clarified."
Announcing that the company's tour operations would be increased to a record level in 1972, Mr Womar said that this year the company organized the summer holidays of 26.755 Midlands holidaymak ers, and covered 622,231 miles of British roads, compared with only 405,685 in 1966. The popularity of inclusive coach tours and centred holidays both at home and abroad had shown a tremendous increase since 1966 when the company carried only 16,365 holidaymakers.
Mr Womar revealed that Midland Red would be one of the first British operators to take delivery of the new Leyland National integral single-deck bus. It is buying 58 models at a cost of over £4m for delivery in 1972. The company is also putting into service next year seven Leyland Leopard /Plaxton Panorama Elite 40-seat luxury coaches equipped for Continental touring and 13 orthodox 53-seater single-deck buses — Leyland Leopards with Marshall of Cambridge bodies.