EEC seminars for transport managers
24th December 1971
Page 11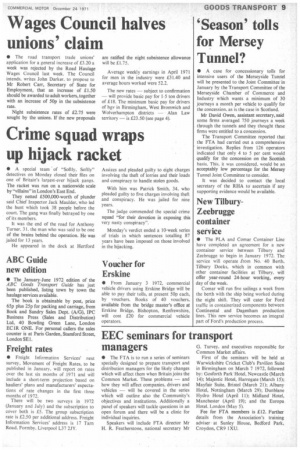 Page 11, 24th December 1971 —
EEC seminars for transport managers
Close
• The FTA is to run a series of seminars specially designed to prepare transport and distribution managers for the likely changes which will affect them when Britain joins the Common Market. These problems — and how they will affect companies, drivers and vehicles — will be covered in the series which will outline also the Community's objectives and institutions. Additionally a panel of speakers will tackle questions in an open forum and there will be a clinic for individual inquiries.
Speakers will include FTA director Mr H. R. Featherstone, national secretary Mr G. Turvey. and executives responsible for Common Market affairs.
First of the seminars will be held at Warwickshire Cricket Club's Pavilion Suite in Birmingham on March 7 1972, followed by: Gosforth Park Hotel, Newcastle (March 14): Majestic Hotel, Harrogate (March 15); Mayfair Suite. Bristol (March 21); Albany Hotel, Nottingham (March 29); Dunblane Hydro Hotel (April 11); Midland Hotel, Manchester (April 19); and the Europa Hotel. London (May 5).
Fee for FTA members is £12. Further details from the Association's training adviser at Sunley House, Bedford Park, Croydon, CR9 1XU.