Crime squad wraps up hijack racket
24th December 1971
Page 11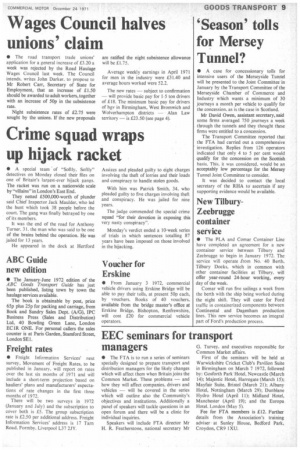 Page 11, 24th December 1971 —
Crime squad wraps up hijack racket
Close
• A special team of "Softly, Softly" detectives on Monday closed their files on one of Britain's largest-ever hijack gangs. The racket was run on a nationwide scale by "villains" in London's East End.
They netted £500,000-worth of plunder said Chief Inspector Jack Maulder. who led the hunt which took 38 people before the court. The gang was finally betrayed by one of its members.
It was the end of the road for Anthony Turner. 31. the man who was said to be one of the brains behind the operation. He was jailed for 13 years.
He appeared in the dock at Hertford Assizes and pleaded guilty to eight charges involving the theft of lorries and their loads and conspiracy to handle stolen goods.
With him was Patrick Smith. 34. who pleaded guilty to five charges involving theft and conspiracy. He was jailed for nine years.
The judge commended the special crime squad "for their devotion in exposing this very nasty conspiracy".
Monday's verdict ended a 10-week series of trials in which sentences totalling 87 years have been imposed on those involved in the hijacking.