LEAVES FROM THE INSPECTOR'S NOTEBOOK.
24th April 1919
Page 9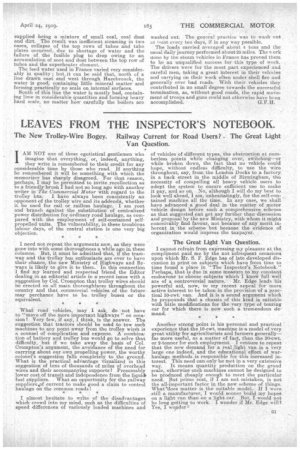 Page 9, 24th April 1919 —
LEAVES FROM THE INSPECTOR'S NOTEBOOK.
Close
The New Trolley-Wire Bogey. Railway Current for Road Users? The Great Light Van Question.
IAM NOT one of those egotistical gentlemen who imagine that everything, or, indeed, anything, they write is remembered to their credit for any considerable time by those who read. If anything be remembered it will be something with which the memorizer has sharply disagreed. For that reason, perhaps, I may be permitted to invite ,recollection as to a friendly brush I had not so long ago with another writer in The Commercial Motor with regard to the
trolley bhs. I have always been consistently an opponent of the trolley wire and its addenda, whether it he used for rail or railless haulage. I am root and branch against the substitution of centralized power distribution for ordinary road haulage, as compared with the employment of self-contained selfpropelled units. The vulnerability, in these troublous labour days, of the central station is one very big objection.
I need not repeat the arguments now, as they were gone into with some thoroughness a while ago inthese columns. But, it must be admitted that., if the tramway and the trolley bus enthusiasts are ever to have their chance, the new Ministry of Highways and Byways is likely to give it to them. In this connection I find my learned and respected friend the Editor dealing in an editorial article in a recent issue with a sugestion by Col, Crompton that trolley wires should be erected on all main thoroughfares throughout the country and that commercial vehicles of the future may perchance have to be trolley buses or the equivalent.
What road vehicles, may I ask, do not have to "-move off the more important highways" on °ma-. sion? Very few, if any, I think, is the answer, The suggestion that tractors should be used to tow such machines to any point away from the trolley wire is a counsel of complication and expense. A combination of battery and trolley bus would go to solve that difficulty, but if we take away the basis of Col. Crompton's argument, the avoidance of the need for carrying about our own propelling power, the worthy colonel's suggestion falls completely to the . ground. What is the practical advantage visualized in this suggestion of tens of thousands of miles of overhead wires and their accompanying supports ? Presumably lower cost of transit and independence from the liquid' fuel suppliers. What an opportunity for the railway suppliersaof current to make good a claim to control
haulage on the common roads I almost hesitate to write of the disadvantages which crowd into my mind, such as the difficulties of speed differences of variously loaded machines and
of vehicles of different types, the obstruction at numberless points while changing over, switching—or while broken down, the fact that no vehicle could hope, without endless difficulty, to use the wire throughout, say, from the London Docks to a factory in a back street in the middle of Birmingham, the necessity of compelling all heavy vehicle users to adopt the system to ensure sufficient use to make it pay, and so on. No, although I will do my best to look well ahead, I am, unhesitatingly, for the self-contained machine all the time. In any case, we shall have advanced a good deal in the matter of .motor vehicle design before such a comprehensive scheme as that suggested can get any further than-discussion and proposal by the new Ministry, with whom it might conceivably find favour, not because of any merit inherent in the scheme but because the evidence of organization would impress the taxpayer.
The Great Light Van Question.
I cannot refrain from expressing my pleasure at the compliment paid me by the not infrequent occasions upon Which Mr. S. F. Edge has of late developed discussion in _.print on subjects which have from time to time found a place in The Inspector's Notebook." Perhaps, that is due in some measure to my constant endeavour to abase subjects which I know full well are of a controversial nature. Mr. Edge lends his powerful aid, now, to my recent appeal for more active interest to be taken in the provision of a practical 10-cwt. van. And it is a sound argument which he propounds that a chassis of this kind is suitablo with little modifications for the very type of touring ear for which there is now such a tremendous demand.
Another strong point is his personal and practical experience that the 10-cwt. machine is a model of very great utility for agriculturists and farmers generally— far more useful, as a matter of fact, than the 30-cwt. or 2-tonner for such employment. I venture to repeat that the new demand for areal ,light van is a very large one indeed, and the educational effect of warhaulage methods is responsible for this increased interest. This need can only be met in a very extensive way. It means quantity production on the grand scale, otherwise such machines cannot be designed to be produced cheaply enough to meet the particular need. But prime east, if I am not mistaken, is not the all-important factor in the new scheme of things. What 'does matter is the suitable model. If I were still a manufacturer, I would. sooner build my hopes on a light van than on a light ear. But; I would not be long getting to work. I wonder if Mr. Edge will? Yes, I wonder t