ITALY'S TRANSPORT PROBLEMS.
24th April 1919
Page 12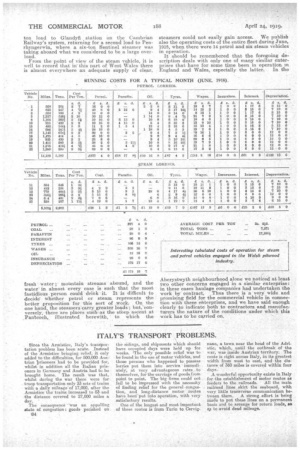 Page 12, 24th April 1919 —
ITALY'S TRANSPORT PROBLEMS.
Close
Since the Armistice, Italy's transportation problem has been acute. Instead of the Armistice bringing relief, it only added to the difficulties, for 500,000 Ans7 trian brisonera had to be provided for, whilst in addition all the Italian prisoners in Germany and Austria had to-be brought home. The result was that, whilst during the war there were for troop transportation only 33 sets of trains with a daily niileagerof 17,000, after the Armistice" the trains increased to 53 and the distance covered to 27,000 miles a day.
The consequence was an appalling state of congestion: goods perished on 34 •
the sidings, and shipments which should have occupied days were held up -fm. weeks. The only posaible relief was to be found in the use of motor vehicles, and those persons who happened' to possess lorries put them into service immediately, at very advantageous rates. to themselves, for the carriage of goods,from point to point. The big firms could not fail to be impressed with the necessity of finding relief for the general. congestion, and long-distance motor routes have been putinto operation, with very satisfactory results.
One of the longest and most important of these routes is from Turin to Gervig nano, a town near the head of the Adriatic, which, until the outbreak of the war, was inside Austrian territory. The route is right across Italy, in its greatest width from west to east, and the distance of 360 miles is covered within four
days. .
A wonderful opportunity exists in Italy for the establishment of motor routes as feeders. to the railroads. All the main railroad lines skirt the seaboard, with very little trantverse communication between them. A strong effort is being made to put these lines on a permanent basis and to arrange for return loads, so as, to avoid dead mileage.