Fully mobile radio
23rd January 1970
Page 67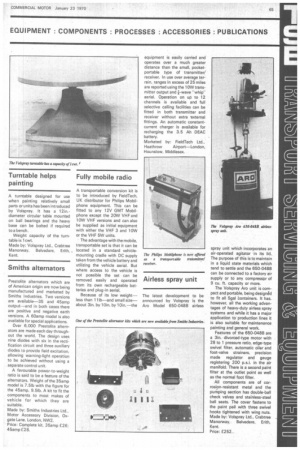 Page 67, 23rd January 1970 —
Fully mobile radio
Close
A transportable conversion kit is to be introduced by FieldTech. UK distributor for Philips Mobilphone equipment. This can be fitted to any 12V GMT Mobilphone except the 20W VHF and 100/ VHF versions and can also be supplied as initial equipment with either the VHF 3 and I OW or the VHF 5W units.
The advantage with the mobile, transportable set is that it can be located in a standard vehiclemounting cradle with DC supply taken from the vehicle battery and utilizing the vehicle aerial. But where access to the vehicle is not possible the set can be removed easily and operated from its own rechargeable batteries and plug-in aerial.
Because of its low weightless than 11 lb—and small size— about 3in. by 10in. by 10in.—the equipment is easily carried and operates over a much greater distance than the small, pocketportable type of transmitter/ receiver. In use over average terrain, ranges in excess of 25 miles are reported using the 10W transmitter output and +-wave "whip"' aerial. Operation on up to 12 channels is available and full selective calling facilities can be fitted in both transmitter and receiver without extra 'external fittings. An automatic constantcurrent charger is available for recharging the 3.5 Ah DEAC battery.
Marketed by: FieldTech Ltd., Heathrow Airport—London, Hounslow, Middlesex.