Metric motors
23rd January 1970
Page 65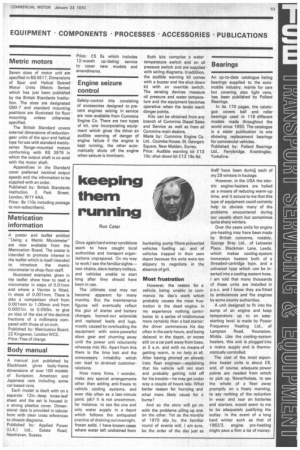 Page 65, 23rd January 1970 —
Metric motors
Close
Seven sizes of motor unit are specified in BS 4517, Dimensions of Spur and Helical Geared Motor Units (Metric Series/ which has just been published by the British Standards Institution. The sizes are designated GMI-7 and standard mounting positions are illustrated for floor mounting unless otherwise specified.
The British Standard covers external dimensions of reductiongear units of the spur and helical type for use with standard metricseries flange-mounted motors conforming with BS 3979 in which the output shaft is co-axial with the motor shaft.
Appendices in the Standard cover preferred nominal output speeds and the information to be supplied with an order.
Published by: British Standards Institution, 2 Park Street, London. W1Y 4AA.
Price: 8s (10s including postage to non-subscribers/.