Engine seizure control
23rd January 1970
Page 65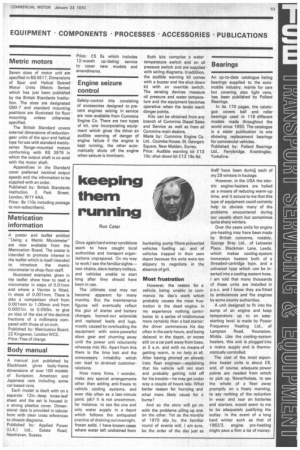 Page 65, 23rd January 1970 —
Engine seizure control
Close
Safety-control kits consisting of accessories designed to prevent engines seizing in service are now available from Cummins Engine Co. There are two types of kit, one incorporating equipment which gives the driver an audible warning of danger of engine failure if the engine is kept running, the other automatically shuts off the engine when seizure is imminent. Both kits comprise a water temperature switch and an oil pressure switch and are supplied with wiring diagrams. In addition, the audible warning kit comes with a buzzer and the shut-down kit with an override switch.
The sensing devices measure oil pressure and water tempera ture and the equipment becomes operative when the levels reach danger points.
Kits can be obtained from any branch of Cummins Diesel Sales and Service as well as from all Cummins main dealers.
Made by: Cummins Engine Co. Ltd., Coombe House, St. George's Square, New Malden, Surrey. Price: Audible warning kit £13 10s; shut-down kit £13 18s 6d.