Temperature indicators
23rd January 1970
Page 64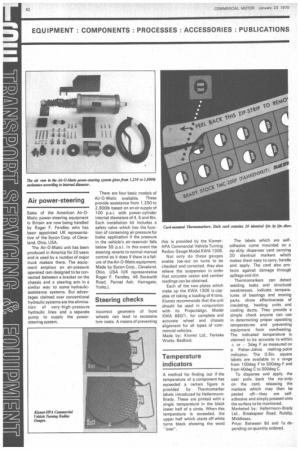 Page 64, 23rd January 1970 —
Temperature indicators
Close
A method for finding out if the temperature of a component has exceeded a certain figure is provided by Thermomarker labels introduced by HellermannBrady. These are printed with a single temperature in the black lower half of a circle. When this temperature is exceeded, the upper half which starts off white turns black showing the word over . The labels which are selfadhesive come mounted on a zip-strip dispenser card carrying 20 identical markers which makes them easy to carry, handle and apply. The card also protects against damage through spillage and dirt.
Thermornarkers can detect welding leaks and structural weaknesses, indicate temperatures of bearings and moving parts, show effectiveness of insulating, heating units and cooling ducts. They provide a simple check anyone can use in determining proper operating temperatures and preventing equipment from overheating. The indicated temperature is claimed to be accurate to within + or 3deg F as measured on a Fisher-Johns melting-point indicator. The 0.5in. square labels are available in a range from 100deg F to 500deg F and from 40deg C to 300deg C.
To dispense and apply, the user pulls back the zip-strip on the card, releasing the markers which may then be peeled off—they are selfadhesive and simply pressed onto the surface to be monitored. Marketed by: Hellermann-Brady Ltd., Breakspear Road, Ruislip, Middlesex.
Price: Between 8d and is depending on quantity ordered.