Steering checks
23rd January 1970
Page 64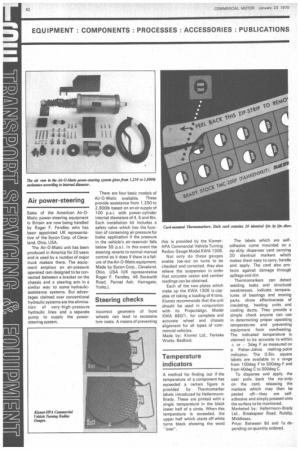 Page 64, 23rd January 1970 —
Steering checks
Close
Incorrect geometry of front wheels can lead to excessive tyre costs. A means of preventing this is provided by the KismetH PA Commercial Vehicle Turning Radius Gauge Model KWA 1306.
Not only do these gauges enable toe-out on turns to be checked and corrected, they also relieve the suspension in order that accurate castor and camber readings can be obtained.
Each of the two plates which make up the KWA 1306 is capable of taking a loading of 4 tons. Kismet recommends that the unit should be used in conjunction with its Projectalign, Model KWA 660/1, for complete and accurate wheel and chassis alignment for all types of commercial vehicles.
Made by: Kismet Ltd., Fenlake Works, Bedford.