We propose to affix a Lincoln 300amp Diesel Welder Unit
23rd January 1970
Page 59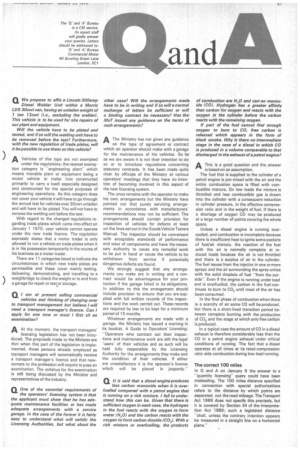 Page 59, 23rd January 1970 —
We propose to affix a Lincoln 300amp Diesel Welder Unit
Close
within a Morris L05 30cwt van, having an unladen weight of 1 ton 13cwt (i.e., excluding the welder). This vehicle is to be used for site repairs of our plant and equipment.
Will the vehicle have to be plated and tested, and if so will the welding unit have to be removed before the test? Furthermore, with the new regulation of trade plates, will it be possible to use them on this vehicle?
AVehicles of this type are not exempted
under the regulations; the nearest exemption category is "engineering plant" which means movable plant or equipment being a motor vehicle or trailer (not constructed primarily to carry a load) especially designed and constructed for the special purposes of engineering operations. As this category does not cover your vehicle it will have to go through the annual test for vehicles over 30cwt unladen and will have to be plated. You will not have to remove the welding unit before the test.
With regard to the changed regulations regarding trade plates which came into effect on January 1 1970, your vehicle cannot operate under the new trade licence. The regulation expressly states that a motor trader is only allowed to run a vehicle on trade plates when it is in his possession temporarily in the course of his business as a motor trader.
There are 11 categories listed to indicate the circumstances in which new trade plates are permissible and these cover mainly testing, delivering, demonstrating, and travelling to a weighbridge to check the weight or to and from a garage for repair or test or storage.