CI One of the essential requirements of
23rd January 1970
Page 59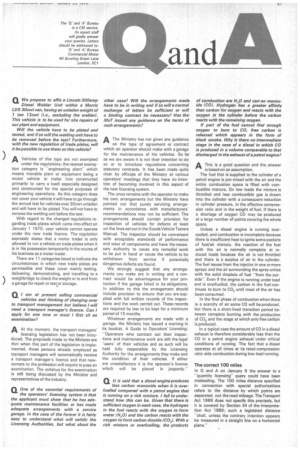 Page 59, 23rd January 1970 —
CI One of the essential requirements of
Close
the operators' licensing system is that the applicant must show that he has adequate maintenance facilities or has made adequate arrangements with a service garage. In the case of the former it is fairly easy to understand what will satisfy the Licensing Authorities, but what about the other case? Will the arrangements made have to be in writing and if so will a normal exchange of letters be sufficient or will a binding contract be necessary? Has the MoT issued any guidance on the terms of such arrangements?
AThe Ministry has not given any guidance
on the type of agreement or contract which an operator should make with a garage for the maintenance of his vehicles. So far as we are aware it is not their intention to do so or to introduce regulations concerning statutory contracts. It has been made quite clear by officials of the Ministry at various operators' meetings that they have no intention of becoming involved in this aspect of the new licensing system_ The onus remains with the operator to make his own arrangements but the Ministry have pointed out that purely servicing arrangements in accordance with manufacturers' recommendations may not be sufficient. The arrangements should contain provision for inspection of vehicles for defects at least on the lines set out in the Goods Vehicle Testers Manual. The inspector should be conversant with acceptable standards of performance and wear of components and have the necessary authority to cause any remedial work to be put in hand or cause the vehicle to be withdrawn from service if potentially dangerous defects are found.
We strongly suggest that any arrangements you make are in writing and a contract would be advantageous for your protection if the garage failed in its obligations. In addition to this the arrangement should include provision to ensure that you are supplied with full written records of the inspections and the work carried out. These records are required by law to be kept for a minimum period of 15 months.
Whatever arrangements are made with a garage, the Ministry has issued a warning in its booklet, A Guide to Operators' Licensing: "Operators who contract out their inspections and maintenance work are still the legal 'users' of their vehicles and as such will be held fully responsible by the Licensing Authority for the arrangements they make and the condition of their vehicles. If either are unsatisfactory it is the operator's licence which will be placed in jeopardy.