A cure for container headaches
23rd January 1970
Page 46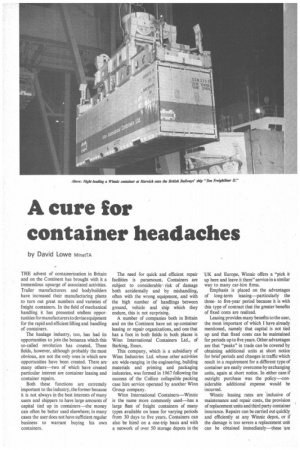 Page 48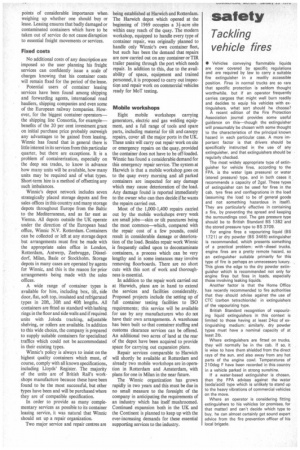 Page 46, 23rd January 1970 —
A cure for container headaches
Close
by David Lowe MinstTA
THE advent of containerization in Britain and on the Continent has brought with it a tremendous upsurge of associated activities. Trailer manufacturers and bodybuilders have increased their manufacturing plants to turn out great numbers and varieties of freight containers. In the field of mechanical handling it has presented endless opportunities for manufacturers to devise equipment for the rapid and efficient lifting and handling of containers.
The haulage industry, too, has had its opportunities to join the bonanza which this so-called revolution has created. These fields, however, although probably the most obvious, are not the only ones in which new opportunities have been created. There are many others—two of which have created particular interest are container leasing and container repairs.
Both these functions are extremely important to the industry, the former because it is not always in the best interests of many users and shippers to have large amounts of capital tied up in containers—the money can often be better used elsewhere; in many cases the user does not have sufficient regular business to warrant buying his own containers. The need for quick and efficient repair facilities is paramount. Containers are subject to considerable risk of damage both accidentally and by mishandling, often with the wrong equipment, and with the high number of handlings between ground, vehicle and ship which they endure, this is not surprising.
A number of companies both in Britain and on the Continent have set up container leasing or repair organizations, and one that has a foot in both fields in both places is Winn International Containers Ltd., of Barking, Essex.
This company, which is a subsidiary of Winn Industries Ltd. whose other activities are wide-ranging in the engineering, building materials and printing and packaging industries, was formed in 1967 following the success of the Collico collapsible packing case hire service operated by another Winn Group company.
Winn International Containers—Winnic is the name more commonly used—has a large fleet of freight containers of many types available on lease for varying periods from 30 days to five years. Containers can also be hired on a one-trip basis and with a network of over 50 storage depots in the 'UK and Europe, Winnic offers a "pick it up here and leave it there" service in a similar way to many car-hire firms.
Emphasis is placed on the advantages of long-term leasing—particularly the threeto five-year period because it is with this type of contract that the greater benefits of fixed costs are realized.
Leasing provides many benefits to the user, the most important of which I have already mentioned, namely that capital is not tied up and that fixed costs can be maintained for periods up to five years. Other advantages are that "peaks" in trade can be covered by obtaining additional units at short notice for brief periods and changes in traffic which result in a requirement for a different type of container are easily overcome by exchanging units, again at short notice. In either case if outright purchase was the policy—considerable additional expense would be incurred.
Winnie leasing rates are inclusive of maintenance and repair costs, the provision of replacement units and third party container insurance. Repairs can be carried out quickly and efficiently at any Winnic depot, or if the damage is too severe a replacement unit can be obtained immediately—these are points of considerable importance when. weighing up whether one should buy or lease. Leasing ensures that badly damaged or contaminated containers which have to be taken out of service do not cause disruption to essential freight movements or services.
Fixed costs No additional costs of any description are imposed so the user planning his freight services can confidently issue a scale of charges knowing that his container costs will remain fixed for the period of the lease.
Potential users of container leasing services have been found among shipping and forwarding agents, international road hauliers, shipping companies and even some of the European railway Companies. However, for the biggest container operators— the shipping line Consortia, for example— benefits of the 20 per cent investment grant on initial purchase price probably outweigh any advantages to be gained from leasing. Win/lie has found that in general there is little interest in its services from this particular quarter, but there are exceptions. It is a problem of containerization, especially on the deep sea trades, to know in advance how many units will be available, how many units may be required and of what types. Short-term hire is a method of offsetting any such imbalances.
Winnic's depot network includes seven strategically placed storage depots and five sales offices in this country and many storage depots throughout Europe from the Baltic to the Mediterranean, and as far east as Vienna. All depots outside the UK operate under the direction of the European head office, Winnie N.V. Rotterdam. Containers can be collected or left at any storage depot but arrangements must first be made with the appropriate sales office in London, Rotterdam, Antwerp, Zeebrugge, Dusseldorf, Milan, Basle or Stockholm. Storage depots in many cases are operated by agents for Winnic, and this is the reason for prior arrangements being made with the sales offices.
A wide range of container types is available for hire, including box, tilt, side door, fiat, soft top, insulated and refrigerated types in 2011, 30ft and 4011 lengths. All containers are fitted as standard with lashing rings in the floor and side walls and if required. units with Joloda tracking, adjustable shelving, or rollers are available. In addition to this wide choice, the company is prepared to supply suitable containers for specialized traffics which could not be accommodated in their existing types.
Winnic's policy is always to insist on the highest quality containers which must, of course, comply with all known specifications, including Lloyds' Register. The majority of the units are of British Rail's workshops manufacture because these have been found to be the most successful, but other types have been and will be purchased where they are of compatible specification.
In order to provide as many complementary services as possible to its container leasing service, it was natural that Winnic should set up a repair organization.
Two major service and repair centres are being established at Harwich and Rotterdam, The Harwich depot which opened at the beginning of 1969 occupies a 3f-acre site within easy reach of the quay. The modern workshop, equipped to handle every type of container repair, was originally planned to handle only Wirmic's own container fleet, but such has been the demand that repairs are now carried out on any container or 'FIR trailer passing through the port which needs repair. In addition to this, due to the availability of space, equipment and trained personnel, it is proposed to carry out inspectiqn and repair work on commercial vehicles ready for MoT testing.
Mobile workshops Eight mobile workshops carrying generators, electric and gas welding equipment, and a full range of tools and spare parts, including material for tilt and canopy repairs, cover all the major ports in the UK. These units will carry out repair work on site or emergency repairs on the quay, provided the container does not have to be off-loaded. Winnic has found a considerable demand for this emergency repair service. The system at Harwich is that a mobile workshop goes on to the quay every morning and all parked containers are inspected for any damage which may cause deterioration of the load. Any damage found is reported immediately to the owner who can then decide if he wants the repairs carried out.
Most of the 1,000-1,400 repairs carried out by the mobile workshops every week are small jobs—skin or tilt punctures being the most common—which, compared with the repair cost of a few pounds, could result in considerable damage or deterioration of the load. Besides repair work Winnic is frequently called upon to decontaminate containers, a process which can be very lengthy and in some instances may involve removing floorboards. There are no short cuts with this sort of work and thoroughness is essential.
In addition to the repair work carried out at Harwich, plans are in hand to extend the services and facilities considerably. Proposed projects include the setting up of full container testing facilities to ISO requirements; this service will be available for use by any manufacturers who do not have their own arrangements. A warehouse has been built so that container stuffing and customs clearance services can be offered. An additional two acres of land at the rear of the depot have been acquired to provide space for carrying out expansion plans.
Repair services comparable to Harwich will shortly be available at Rotterdain and already two mobile workshops are in operation in Rotterdam and Amsterdam, with plans for one in Milan in the near future.
The Winnic organization has grown rapidly in two years and this must be due in no small measure to the foresight of the company in anticipating the requirements of an industry which has itself mushroomed. Continued expansion both in the UK and the Continent is planned to keep up with the ever-increasing demands for these essential supporting services to the industry.