TURNERS (SOHAM) LTD.
23rd January 1970
Page 43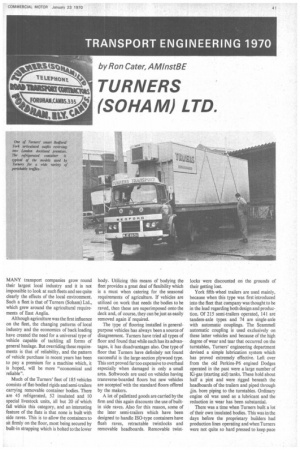 Page 44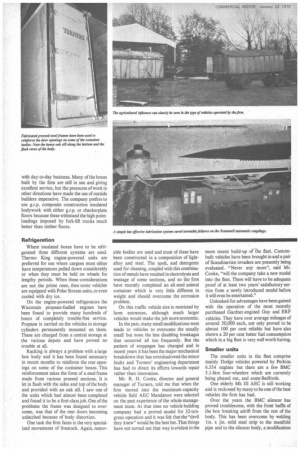 Page 45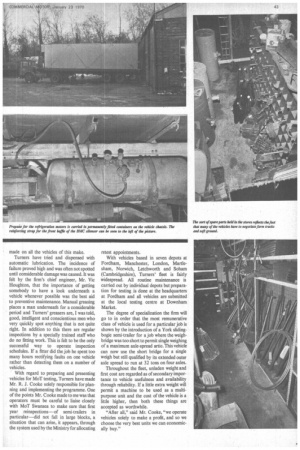 Page 43, 23rd January 1970 —
TURNERS (SOHAM) LTD.
Close
by Ron Cater, AMInstBE
MANY transport companies grow round their largest local industry and it is not impossible to look at such fleets and see quite clearly the effects of the local environment. Such a fleet is that of Turners (Soham) Ltd., which grew around the agricultural requirements of East Anglia.
Although agriculture was the first influence on the fleet, the changing patterns of local industry and the economics of back loading have created the need for a universal type of vehicle capable of tackling all forms of general haulage. But overriding these requirements is that of reliability, and the pattern of vehicle purchase in recent years has been to pay a premium for a machine which, it is hoped, will be more "economical and reliable".
Much of the Turners' fleet of 185 vehicles consists of flat-bodied rigids and semi-trailers carrying removable container bodies. There are 45 refrigerated, 52 insulated and 10 special livestock units, all but 20 of which fall within this category, and an interesting feature of the flats is that none is built with side raves. This is to allow the containers to sit firmly on the floor, most being secured by built-in strapping which is bolted to the lower body. Utilizing this means of bodying the fleet provides a great deal of flexibility which is a must when catering for the seasonal requirements of agriculture. If vehicles are utilized on work that needs the bodies to be raved, then these are superimposed onto the deck and, of course, they can be just as easily removed again if required.
The type of flooring installed in generalpurpose vehicles has always been a source of disagreement. Turners have tried all types of floor and found that while each has its advantages, it has disadvantages also. One type of floor that Turners have definitely not found successful is the large-section plywood type. This sort proved far too expensive to overhaul especially when damaged in only a small area. Softwoods are used on vehicles having transverse-boarded floors but new vehicles are accepted-with the standard floors offered by the makers.
A lot of palletized goods are carried by the firm and this again discounts the use of builtin side raves. Also for this reason, some of the later semi-trailers which have been designed to handle ISO-type containers have flush raves, retractable twistlocks and removable headboards. Removable twist
locks were discounted on the grounds of their getting lost.
York fifth-wheel trailers are used mainly, because when this type was first introduced into the fleet that company was thought to be in the lead regarding both design and production. Of 215 semi-trailers operated, 141 are tandem-axle types and 74 are single-axle with automatic couplings. The Scammell automatic coupling is used exclusively on these latter vehicles and because of the high degree of wear and tear that occurred on the turntables, Turners' engineering department devised a simple lubrication system which has proved extremely effective. Left over from the old Perkins-P6 ertgined Dodges operated in the past were a large number of Ki-gas (starting aid) tanks. These hold about half a pint and were rigged beneath the headboards of the trailers and piped through ?gin. bore piping to the turntables. Ordinary engine oil was used as a lubricant and the reduction in wear has been substantial.
There was a time when Turners built a lot of their own insulated bodies. This was in the days before the proprietary builders had production lines operating and when Turners were not quite so hard pressed to keep pace with day-to-day business. Many of the boxes built by the firm are still in use and giving excellent service, but the pressures of work in other directions have made the use of outside builders imperative. The company prefers to use g.r.p. composite construction insulated bodywork with either g.r.p. or checkerplate floors because these withstand the high pointloadings imposed by fork-lift trucks much better than timber floors.
Refrigeration
Where insulated boxes have to be refrigerated three different systems are used. Thermo King engine-powered units are preferred for use where cargoes must either have temperatures pulled down considerably or when they must be held on wheels for lengthy periods. When these considerations are not the prime ones, then some vehicles are equipped with Polar Stream units, or even cooled with dry ice.
On the engine-powered refrigerators the Wisconsin propane-fuelled engines have been found to provide many hundreds of hours of completely trouble-free service. Propane is carried on the vehicles in storage cylinders permanently mounted on them. These are charged from a central storage at the various depots and have proved no trouble at all.
Racking is always a problem with a large box body and it has been found necessary in recent months to reinforce the rear openings on some of the container boxes. This reinforcement takes the form of a steel frame made from various pressed sections. It is let in flush with the sides and top of the body and provided with an oak sill. I saw one of the units which had almost been completed and found it to be a first-class job. One of the problems the frame was designed to overcome, was that of the rear doors becoming unlatched because of body distortion.
One task the firm faces is the very specialized movements of livestock. Again, remov
able bodies are used and most of these have been constructed in a composition of lightalloy and steel. The spoil, and detergents used for cleaning, coupled with this combination of metals have resulted in electrolysis and wastage of some sections, and so the firm have recently completed an all-steel animal container which is very little different in weight and should overcome the corrosion problem.
On this traffic vehicle size is restricted by farm entrances, although much larger vehicles would make the job more economic.
In the past, many small modifications were made to vehicles to overcome the usually small but none the less disabling breakages that occurred all too frequently. But the pattern of stoppages has changed and in recent years it has been the major mechanical breakdown that has overshadowed the minor faults and Turners' engineering department has had to direct its efforts towards repair rather than innovation.
Mr. R. H. Cooke, director and general manager of Turners, told me that when the firm moved into the maximum-capacity vehicle field AEC Mandators were selected on the past experience of the whole management team. At that time no vehicle building company had a proved model for 32-tongross operation and it was felt that the "devil they knew" would be the best bet. That things have not turned out that way is evident in the
more recent build-up of fleet. Custom
built vehicles have been brought in and a pair of Scandinavian invaders are presently being evaluated. "Never any more", said Mr. Cooke, "will the company take a new model into the fleet. There will have to be adequate proof of at least two years' satisfactory service from a 'newly introduced model before it will even be entertained."
Unlooked-for advantages have been gained with the operation of the most recently purchased Gardner-engined Guy and ERF vehicles. They have over average mileages of around 50,000 each, not only proved to be almost 100 per cent reliable but have also shown a 20 per cent better fuel consumption which in a big fleet is very well worth having.
Smaller units
The smaller units in the fleet comprise mainly Dodge vehicles powered by Perkins 6.354 engines but there are a few BMC 5.1-litre four-wheelers which are currently being phased out, and some Bedfords.
One elderly Mk III AEC is still working and is reckoned by many to be one of the best vehicles the firm has had.
Over the years the BMC silencer has proved troublesome, with the front baffle of the box breaking adrift from the rest of the body. This has been overcome by welding lin. x kin. mild steel strip to the manifold pipe and to the silencer body, a modification
made on all the vehicles of this make.
Turners have tried and dispensed with automatic lubrication. The incidence of failure proved high and was often not spotted until considerable damage was caused. It was felt by the firm's chief engineer, Mr. Vic Houghton, that the importance of getting somebody to have a look underneath a vehicle whenever possible was the best aid to preventive maintenance. Manual greasing places a man underneath for a considerable period and Turners' greasers are, I was told, good, intelligent and conscientious men who very quickly spot anything that is not quite right. In addition to this there are regular inspections by a specially trained staff who do no fitting work. This is felt to be the only successful way to operate inspection schedules. If a fitter did the job he spent too many hours rectifying faults on one vehicle rather than detecting them on a number of vehicles.
With regard to preparing and presenting vehicles for MoT testing, Turners have made Mr. R. J. Cooke solely responsible for planning and implementing the programme. One of the points Mr. Cooke made to me was that operators must be careful to liaise closely with MoT Swansea to make sure that first year reinspections—of semi-trailers in particular—did not fall in large blocks, a situation that can arise, it appears, through the system used by the Ministry for allocating retest appointments.
With vehicles based in seven depots at Fordham, Manchester, London, Martlesham, Norwich, Letchworth and Soham (Cambridgeshire), Turners' fleet is fairly widespread. All routine maintenance is carried out by individual depots but preparation for testing is done at the headquarters at Fordham and all vehicles are submitted at the local testing centre at Downham Market.
The degree of specialization the firm will go to in order that the most remunerative class of vehicle is used for a particular job is shown by the introduction of a York slidingbogie semi-trailer for a job where the weighbridge was too short to permit single weighing of a maximum axle-spread attic. This vehicle can now use the short bridge for a single weigh but still qualified by its extended outer axle spread to run at 32 tons on four axles.
Throughout the fleet, unladen weight and first cost are regarded as of secondary importance to vehicle usefulness and availability through reliability. If a little extra weight will permit a machine to be used as a multipurpose unit and the cost of the vehicle is a little higher, then both these things are accepted as worthwhile.
"After all," said Mr. Cooke, "we operate vehicles solely to make a profit, and so we choose the very best units we can economically buy.