Transatlantic pros and cons
23rd January 1970
Page 40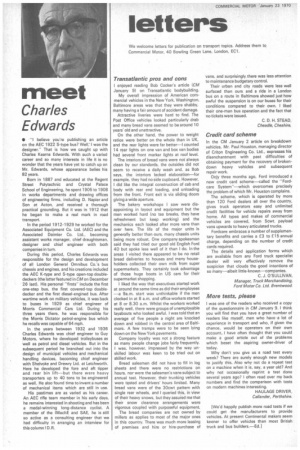 Page 40, 23rd January 1970 —
Transatlantic pros and cons
Close
I enjoyed reading Bob Cocker's article (CM January 9) on Transatlantic bodybuilding.
My overall impression of American commercial vehicles in the New York, Washington, Baltimore areas was that they were shabby. many having a fair amount of accident damage.
Attractive liveries were hard to find. The Post Office vehicles looked particularly drab and many bread vans seemed to be around 10 years' old and unattractive.
On the other hand, the power to weight ratios were better on the whole than in UK, and the rear lights were far better—I counted 14 rear lights on one van and box van bodies had several front marker lights at roof level.
The interiors of bread vans were not always clean by our standards, the outsides did not seem to receive a daily wash and, as Bob says, the interiors lacked elaboration—for example, they had no side cupboard. However, I did like the integral construction of cab and body with rear end loading, and unloading from the front. Front exit is via sliding doors giving a wide aperture.
The bakery workshops I saw were disappointing in layout and equipment but the men worked hard (no tea breaks, they have refreshment but keep working) and the mechanics each looked after more vans than over here. The life of the major units is generally better than ours, many chassis units being more robust. One company spokesman said they had tried our good old English Ford 4D but spoke less well of it than I do. In the areas I visited there appeared to be no retail bread deliveries to houses and many householders collected their own milk from super supermarkets. They certainly took advantage of those huge boots in US cars for their supermarket shopping.
I liked the way that executives started work at around the same time as did their employees --a 9a.m. start was unthinkable if the roan clocked in at 8 a.m. and office workers started at 8 or 8.30 a.m. Whilst the workers worked really well, there were groups of unemployable layabouts who looked awful. I was told that an average of five people a night are knocked down and robbed in the central area of Baltimore. A few tramps were to be seen lying down on the New York pavements.
Company loyalty was not a strong feature as many people change jobs fairly frequently. I was, however, impressed by the way unskilled labour was keen to be tried out on skilled work.
Bread salesmen did not have to fill in log sheets and there were no restrictions on hours, nor were the salesmen's vans subject to annual test. However, their trunking vehicles were tested and drivers' hours limited. Many bread vans were of the 30cwt pattern with single rear wheels, and I queried this, in view of their heavy snows, but they assured me that their snow clearance arrangements were vigorous coupled with purposeful equipment.
The bread companies are not owned by millers as applies to most of the major ones in this country. There was much more leasing of premises and hire or hire-purchase of vans, and surprisingly there was less attention to maintenance budgetary control.
Their urban and city roads were less well surfaced than ours and a ride in a London bus on a route in Baltimore showed just how awful the suspension is on our buses for their conditions compared to their own. I liked their one-man bus operation and the fact that no tickets were issued.
C. D. H. STEAD, Cheadle, Cheshire,