meet
23rd January 1970
Page 40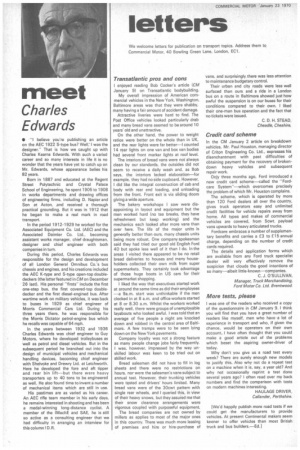 Page 40, 23rd January 1970 —
meet
Close
Charles Edwards
• "I believe you're publishing an article on the AEC 1922 S-type bus? Well; I was the designer." That is how we caught up with Charles Kearns Edwards. With such a varied career and so many interests in life it is no wonder that the years have yet to catch up on Mr. Edwards, whose appearance belies his 82 years.
Born in 1887 and educated at the Regent Street Polytechnic and Crystal Palace School of Engineering, he spent 1905 to 1908 in works departments and drawing offices of engineering firms. including D. Napier and Son at Acton, and received a thorough practical grounding. But it was in 1912 that he began to make a real mark in road transport.
In the period 1912-1929 he worked for the Associated Equipment Co. Ltd. (AEC) and the Associated Daimler Co. Ltd.. becoming assistant works manager, chief draughtsman, designer and chief engineer with both companies in turn.
During this period, Charles Edwards was responsible for the design and development of all London General Omnibus Co.'s bus chassis and engines, and his creations included the AEC K-type and S-type open-top doubledeckers (the latter featured in CM on December 26 last). His personal "firsts" include the first one-step bus, the first covered-top doubledecker and the first diesel-engined bus. After wartime work on military vehicles, it was back to buses in 1929 as chief engineer of Morris Commercial Cars Ltd. During his three years there, he was responsible for the Morris Dictator petrol-engine bus which he recalls was capable of 64 mph.
In the years between 1932 and 1936 Charles Edwards was chief engineer to Guy Motors, where he developed trolleybuses as well as petrol and diesel vehicles. But in the subsequent period he branched out into the design of municipal vehicles and mechanical handling devices, becoming chief engineer with Shelvoke and Drewry Ltd. at Letchworth. Here he developed the fore and aft tipper and rear bin lift--but there were heavy transporters up to 40 tons to be engineered as well. He also found time to invent a number of mechanical items which are still in use.
His pastimes are as varied as his career. An AEC rifle team member in his early days, he remains interested in shooting and has been a medal-winning long-distance cyclist. A member of the IMechE and SAE, he is still so active as a consulting engineer that we had difficulty in arranging an interview for this column! D.R.