Air-hydraulics or Hydro-Couple
23rd January 1970
Page 39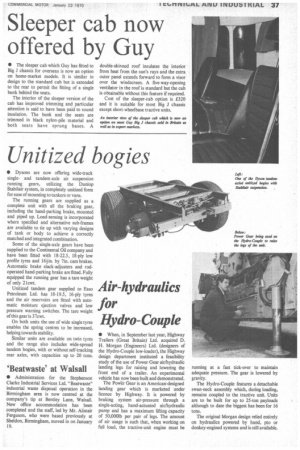 Page 39, 23rd January 1970 —
Air-hydraulics or Hydro-Couple
Close
• When, in September last year, Highway Trailers • (Great Britain) Ltd. acquired D. H. Morgan (Engineers) Ltd. (designers of the Hydro-Couple low-loader), the Highway design department instituted a feasibility study of the use of Power Gear air/hydraulic landing legs for raising and lowering the front end of a trailer. An experimental vehicle has now been built and demonstrated.
The PowZr Gear is an American-designed landing gear which is marketed under licence by Highway. It is powered by braking system air-pressure through a single-acting, hand-actuated air/hydraulic pump and has a maximum lifting capacity of 50,000lb per pair of legs. The amount of air usage is such that, when working on full load, the tractive-unit engine must be running at a fast tick-over to maintain adequate pressure. The gear is lowered by gravity.
The Hydro-Couple features a detachable swan-neck assembly which, during loading, remains coupled to the tractive unit. Units are to be built for up to 25-ton payloads although to date the biggest has been for 16 tons.
The original Morgan design relied entirely on hydraulics powered by hand, pto or donkey-engined systems and is still available.