Snug-fit brake linings essential, says fleet engineer
23rd January 1970
Page 34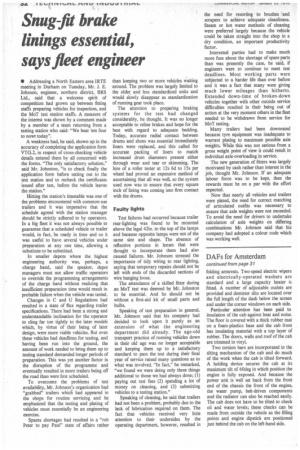 Page 34, 23rd January 1970 —
Snug-fit brake linings essential, says fleet engineer
Close
• Addressing a North Eastern area IRTE meeting in Durham on Tuesday, Mr. J. E. Johnson, engineer, northern district, BRS Ltd., said that a welcome spirit of competition had grown up between fitting staffs preparing vehicles for inspection, and the MoT test station staffs. A measure of the interest was shown by a comment made by a member of a team returning from a testing station who said: "We beat 'em four to nowt today".
A weakness had, he said, shown up in the accuracy of completing the application form VTG.2, in respect of cross-checking vehicle details entered there by all concerned with the forms. "The only satisfactory solution," said Mr. Johnston, "is to check finally the application form before setting out to the test station and to recheck the certificates issued after test, before the vehicle leaves the station."
Hitting the station's timetable was one of the problems encountered with common-use trailers and it was imperative that the schedule agreed with the station manager should be strictly adhered to by operators. In a big fleet it was not always possible to guarantee that a scheduled vehicle or trailer would, in fact, be ready in time and so it was useful to have several vehicles under preparation at any one time, allowing a substitute to be submitted.
In smaller depots where the highest engineering authority was, perhaps, a charge hand, said the speaker, depot managers must not allow traffic operators to override the programming arrangements of the charge hand without realizing that insufficient preparation time would result in probable failure when the vehicle was tested.
Changes in C and U Regulations had resulted in a state of flux regarding trailer specifications. There had been a strong and understandable inclination for the operator to cling far too tightly to the later models which, by virtue of their being of later design, were more viable vehicles. But even these vehicles had deadlines for testing, and having been run into the ground, the amount of work needed to bring them up to testing standard demanded longer periods of preparation. This was yet another factor in the disruption of the programme and eventually resulted in more trailers being off the road than were first scheduled.
To overcome the problems of test availability, Mr. Johnson's organization had "grabbed" trailers which had appeared in the shops for routine servicing and he emphasized that the testing and plating of vehicles must essentially be an engineering exercise. than keeping two or more vehicles waiting around. The problem was largely limited to the older and less standardized units and would slowly disappear as standardization of running gear took place.
The attention to preparing braking systems for the test had changed considerably, he thought. It was no longer acceptable to reline brakes and hope for the best with regard to adequate bedding. Today, accurate radial contact between drums and shoes was essential immediately liners were replaced, and this called for accurate packing of liners to match increased drum diameters present either through wear and tear or skimming. The hire of a roller tester at 12s 6d to 15s per wheel had proved an expensive method of ascertaining that all was well, so the system used now was to ensure that every square inch of lining was coming into firm contact with the drums.
Faulty lights Test failures had occurred because trailer rear-lighting was found to be mounted above the legal 42in. to the top of the lamps and because opposite lamps were not of the same size and shape. The absence of reflective portions in lenses that were thought to incorporate them had also caused failures. Mr. Johnson stressed the importance of tidy wiring to rear lighting, saying that temporary repairs should not be left with ends of the discarded sections of wire hanging loose.
The attendance of a skilled fitter during an MoT test was deemed by Mr. Johnston to be essential. And lie should not be without a first-aid kit of small parts and bulbs.
Speaking of test preparation in general, Mr. Johnson said that his company had decided to look upon it purely as an extension of what the engineering department did already. The age-old transport practice of running vehicles down in their old age was no longer acceptable and keeping them up to a satisfactory standard to pass the test during their final year of service raised many questions as to what was involved. "In fact," he remarked, "we found we were doing only three things additional to those we had always done; (1) paying out test fees (2) spending a lot of money on cleaning, and (3) submitting vehicles to a testing station."
Speaking of cleaning, he said that trailers had not been a problem, probably due to the lack of lubrication required on them. The fact that vehicles received very little attention to their undersides by the operating department, however, resulted in the need for resorting to brushes and scrapers to achieve adequate cleanliness.
Steam or hot water methods of cleaning were preferred largely because the vehicle could be taken straight into the shop in a dry condition, an important productivity factor.
Interested parties had to make much more fuss about the shortage of spare parts than was presently the case, he said, if engineers were to continue to meet test deadlines. Most working parts were subjected to a harder life than ever before and it was a fact that many were giving much lower mileages than hitherto.
Extended down-time of broken-down vehicles together with other outside service difficulties resulted in their being out of action at the very moment others in the fleet needed to be withdrawn from service for MoT testing.
Many trailers had been downratecl because tyre equipment was inadequate to warrant plating to maximum possible axle weights. While this was not serious from a gross weight point of view it could result in individual axle-overloading in service.
The new generation of fitters was largely motivated by cash rather than interest in the job, thought Mr. Johnson. If an adequate labour force was to be kept, then the rewards must be on a par with the effort expected.
Now that nearly all vehicles and trailers were plated, the need for correct matching of articulated outfits was necessary to ensure that axle weights were not exceeded. To avoid the need for drivers to undertake calculation of axle weights on differing combinations Mr. Johnson said that his company had adopted a colour code which was working well.