'Break even' target for NBC
23rd January 1970
Page 32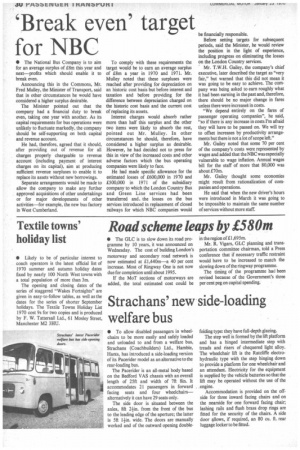 Page 32, 23rd January 1970 —
'Break even' target for NBC
Close
• The National Bus Company is to aim for an average surplus of £8m this year and next—profits which should enable it to break even.
Announcing this in the Commons, Mr. Fred Mulley, the Minister of Transport, said that in other circumstances he would have considered a higher surplus desirable.
The Minister pointed out that the company had a financial duty to break even, taking one year with another. As its capital requirements for bus operations were unlikely to fluctuate markedly, the company should be self-supporting on both capital and revenue account.
He had, therefore, agreed that it should. after providing out of revenue for all charges properly chargeable to revenue account (including payment of interest charges on its capital), aim at producing sufficient revenue surpluses to enable it to replace its assets without new borrowings.
Separate arrangements would be made to allow the company to make any further approved acquisitions of other undertakings or for major developments of other activities—for example, the new bus factory in West Cumberland. To comply with these requirements the target would be to earn an average surplus of £8m a year in 1970 and 1971. Mr. Mulley noted that these surpluses were reached after providing for depreciation on an historic cost basis but before interest and taxation and before providing for the difference between depreciation charged on the historic cost basis and the current cost of replacing its assets.
Interest charges would absorb rather more than half this surplus and the other two items were likely to absorb the rest, pointed out Mr. Mulley. In other circumstances he should, therefore, have considered a higher surplus as desirable. However, he had decided not to press for this in view of the increased costs and other adverse factors which the bus operating companies were likely to face.
He had made specific allowance for the estimated losses of £600,000 in 1970 and £500,000 in 1971 of the subsidiary company to which the London Country Bus and Green Line services had been transferred and, the losses on the bus services introduced in replacement of closed railways for which NBC companies would be financially responsible.
Before setting targets for subsequent periods, said the Minister, he would review the position in the light of experience, including progress on eliminating the losses on the London Country services.
Mr. T.W.H. Gailey, the company's chief executive, later described the target as "very fair," but warned that this did not mean it was going to be easy to achieve. The company was being asked to earn roughly what it had been earning in the past and, therefore, there should be no major change in fares unless there were increases in costs.
"We depend entirely on the fares of passenger operating companies", he said, "so if there is any increase in costs I'm afraid they will have to be passed on. We will try to offset increases by productivity arrangements but there is not a lot of scope left."
Mr. Gailey noted that some 70 per cent of the company's costs were represented by wages and added that the NBC was especially vulnerable to wage inflation. Annual wages bill for the staff of more that 80,000 was about £70m.
Mr. Galley thought some economies might result from rationalization of companies and operations.
He said that when the new driver's hours were introduced in March it was going to be impossible to maintain the same number of services without more staff.