Tribunal decision
23rd January 1970
Page 30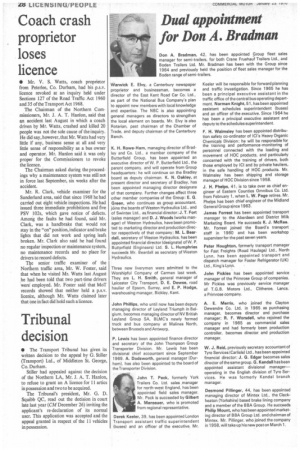 Page 30, 23rd January 1970 —
Tribunal decision
Close
• The Transport Tribunal has given its written decision to the appeal by G. Stiller (Transport) Ltd., of Middleton St. George. Co. Durham.
Stiller had appealed against the decision of the Northern LA, Mr. J. A. T. Hanlon, to refuse to grant an A licence for 11 artics in possession and two to be acquired.
The Tribunal's president, Mr. G. D. Squibb QC, read out the decision in court late last year (CM December 26) inviting the applicant's re-declaration of its normal user. This application was accepted and the appeal granted in respect of the 11 vehicles in possession.