Dual appointment for Don A. Bradman
23rd January 1970
Page 30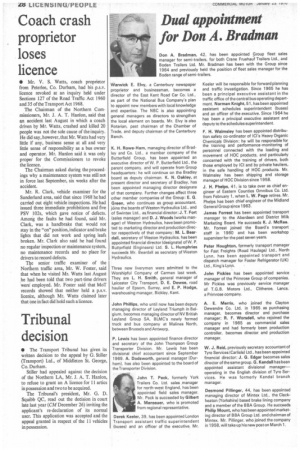 Page 30, 23rd January 1970 —
Dual appointment for Don A. Bradman
Close
Don A. Bradman, 42. has been appointed Group fleet sales manager for semi-trailers, for both Crane Fruehauf Trailers Ltd., and Boden Trailers Ltd. Mr. Bradman has been with the Group since 1964 and previously held the position of fleet sales manager for the Boden range of semi-trailers.
Warwick E. Elvy, a Canterbury newspaper proprietor and businessman, becomes a director of the East Kent Road Car Co. Ltd., as part of the National Bus Company's plan to appoint new members with local knowledge and expertise. The NBC is also appointing general managers as directors to strengthen the local element on boards. Mr. Elvy is also Rotarian, past chairman of the Chamber of Trade, and deputy chairman of the Canterbury Bench.
K. H. Rowe-Ham, managing director of Bradley and Co. Ltd., a member company of the Butterfield Group, has been appointed an executive director of W. P. Butterfield Ltd., the parent company, and will operate from Group headquarters; he will continue on the Bradley board as deputy chairman. K. N. Oakley, at present director and secretary of Bradley, has been appointed managing director designate of that company. Further changes affect three other member companies of the Group: E. G. Green, who continues as group accountant, joins the boards of Weston Hydraulics Ltd., and of Swintex Ltd.. as financial director ; J. T. Fort (sales manager) and D. J. Woods (works manager) of Weston Hydraulics, have been promoted to marketing director and production director respectively of that company: M. L. Beardall, secretary of Weston Hydraulics, has been appointed financial director (designate) of W. P. Butterfield (Engineers) Ltd. S. L. Humphries succeeds Mr. Beardall as secretary of Weston Hydraulics.
Three new liverymen were admitted to the Worshipful Company of Carmen last week. They are L. H. Smith, general manager of Leicester City Transport, D. E. Dowse, road haulier of Epsom. Surrey, and E. P. Hodge, warehousing manager, Bickley, Kent.
John Phillips, who until now has been deputy managing director of Leyland Triumph in Belgium. becomes managing director of NV British Leyland Group SA, BLMC's newly formed truck and bus company at Malines North, between Brussels and Antwerp.
P. Lewis has been appointed finance director and secretary of the John Thompson Group Transporter Division. Mr. Lewis has been divisional chief accountant since September 1969. A. Dodsworth, general manager (Durham), has also been appointed to the board of the Transporter Division.
John T. Peck, formerly York Trailers Co. Ltd. sales manager for north-west England, has been appointed field sales manager. Mr. Peck is succeeded by Gilbert A. Manssuer, who is promoted from regional representative.
Derek Keeler, 39. has been appointed London Transport assistant traffic superintendent (buses) and an officer of the executive. Mr. Keeler will be responsible for forward planning and traffic investigation. Since 1965 he has been a principal executive assistant in the traffic office of the central bus operating department. Norman Knight, 51, has been appointed assistant schedules superintendent (buses) and an officer of the executive. Since 1964 he has been a principal executive assistant and deputy to the schedules superintendent.
F. H. Walmsley has been appointed distribution safety co-ordinator of ICI's Heavy Organic Chemicals Division; he will be responsible for the training and performance-monitoring of personnel connected with the loading and movement of HOC products, and particularly concerned with the training of drivers, both those employed by ICI and by private hauliers, in the safe handling of HOC products. Mr. Walmsley has been shipping and storage manager of HOC Division since 1958.
J. H. Phelps, 41, is to take over as chief engineer of Eastern Counties Omnibus Co. Ltd. from February 1, when L. W. Page retires. Mr. Phelps has been chief engineer of the Midland General Group since 1963.
James Forrest has been appointed transport manager to the Aberdeen and District Milk Marketing Board. He succeeds K. J. McRae. Mr. Forrest joined the Board's transport staff in 1960 and has been workshop supervisor for the past seven years.
Peter Houghton, formerly transport manager for fast Freights (Road Haulage) Ltd., North Lynn, has been appointed transport and dispatch manager for Foster Refrigerator (UK) Ltd., King's Lynn John Pickles has been appointed service manager of the Primrose Group of companies. Mr Pickles was previously service manager of T.G.B. Motors Ltd., Clitheroe, Lanes, a Primrose company.
A. E. Merrix, who joined the Clayton Dewandre Co. Ltd. in 1965 as purchasing manager, becomes director and purchase manager: R. F. Worsdeil, who rejoined the company in 1965 as commercial sales manager and had formerly been production controller, becomes director and production manager.
W. J. Reid, previously secretary accountant of Tyre Services ( Carl isle) Ltd., has been appointed financial director: J. G. Edgar becomes sales director of the same group. G. Kendall has been appointed assistant divisional manager— operating in the English division of Tyre Services. He was formerly Kendal branch manager.
Desmond Pillinger, 44, has been appointed managing director of Mintex Ltd., the Cleckheaton (Yorkshire) based brake lining company and a member of the B BA Group. He succeeds Philip Mount, who has been appointed marketing director of BI3A Group Ltd. and chairman of Mintex. Mr. Pillinger. who joined the company in 1958, will take up his new post on March 1.
Tags
People
:
Gilbert A. Manssuer
,
Derek Keeler
,
Norman Knight
,
K. H. Rowe-Ham
,
J. H. Phelps
,
F. H. Walmsley
,
John Phillips
,
Warwick E. Elvy
,
L. H. Smith
,
A. Dodsworth
,
John T. Peck
,
James Forrest
,
Peter Houghton
,
L. Beardall
,
G. Kendall
,
A. E. Merrix
,
Desmond Pillinger
,
Bickley
,
Philip Mount
,
Don A. Bradman
,
R. F. Worsdeil
,
Lynn John Pickles
,
P. Lewis