Coach crash • proprietor loses licence
23rd January 1970
Page 30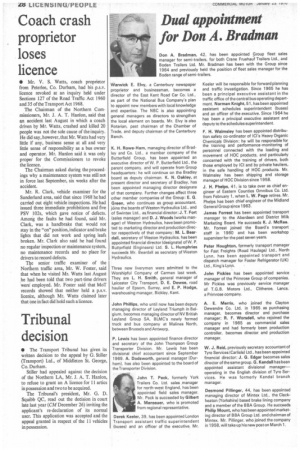 Page 30, 23rd January 1970 —
Coach crash • proprietor loses licence
Close
• Mr. V. S. Watts, coach proprietor from Peterlee, Co. Durham, had his p.s.v. licence revoked at an inquiry held under Sections 127 of the Road Traffic Act 1960 and 35 of the Transport Act 1968.
The Chairman of the Northern Commissioners, Mr. J. A. T. Hanlon, said that an accident last August in which a coach driven by Mr. Watts, crashed and killed 20 people was not the sole cause of the inquiry. He did say, however, that Mr. Watts had very little if any, business sense at all and very little sense of responsibility as a bus owner and operator. Mr. Hanlon said it was only proper for the Commissioners to revoke the licence.
The Chairman asked during the proceedings why a maintenance system was still not in force last September, six weeks after the accident.
Mr. R. Clark, vehicle examiner for the Sunderland area, said that since 1968 he had carried out eight vehicle inspections. He had issued three immediate prohibitions and five PSV 102s, which gave notice of defects. Among the faults he had found, said Mr. Clark, was a handbrake that would not stay in the "on" position, indicator and brake lights that did not work and spring leafs broken. Mr. Clark also said he had found no regular inspection or maintenance system. no maintenance records and no place for drivers to record defects.
The senior traffic examiner of the Northern traffic area, Mr. W. Foster, said that when he visited Mr. Watts last August he had been told that two part time drivers were employed. Mr. Foster said that MoT records showed that neither held a p.s.v. licence, although Mr. Watts claimed later that one in fact did hold such a licence.