Garage apologizes No decision for
23rd January 1970
Page 29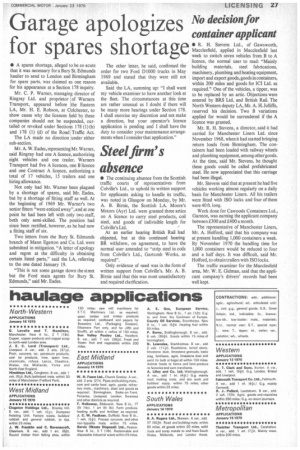 Page 29, 23rd January 1970 —
Garage apologizes No decision for
Close
container applicant
for spares shortage
• A spares shortage, alleged to be so acute that it was necessary for a Bury St. Edmunds haulier to send to London and Birmingham for spare parts, was claimed as one reason for his appearance at a Section 178 inquiry.
Mr. C. P. Warner, managing director of Ringray Ltd. and proprietor I of Warners Transport, appeared before the Eastern LA, Mr. H. E. Robson, at Colchester, to show cause why the licences held by these companies should not be suspended, curtailed or revoked under Sections 178 (1) (b) and 178 (I) (d) of the Road Traffic Act.
The LA made no direction under either sub-section.
Mr. A. W. Eades, representing Mr. Warner, said Ringray had one A licence, authorizing eight vehicles and one trailer. Warners Transport had five A licences, one B licence and one Contract A licence, authorizing a total of 17 vehicles, 15 trailers and one hiring allowance.
Not only had Mr. Warner been plagued by a shortage of spares, said Mr. Eades, but by a shortage of fitting staff as well. At the beginning of 1969 Mr. Warner's two senior fitters "were enticed away", and at one point he had been left with only two staff, both only semi-skilled. The position had since been rectified, however, as he had now a fitting staff of six.
Two letters from the Bury St. Edmunds branch of Mann Egerton and Co. Ltd. were submitted in mitigation. "A letter of apology and regret at the difficulty in obtaining certain listed parts," said the LA, referring to the one dated January 19.
"This is not some garage down the street but the Ford main agents for Bury St. Edmunds," said Mr. Eades. The other letter, he said, confirmed the order for two Ford D1000 trucks in May 1969 and stated that they were still not available.
Said the LA, summing up: "I shall want my vehicle examiner to have another look at the fleet. The circumstances at this time are rather unusual as I doubt if there will be many more hearings under Section 178. I shall exercise my discretion and not make a direction, but your operator's licence application is pending and I shall have the duty to consider your maintenance arrangements when I consider that application."