container applicant
23rd January 1970
Page 29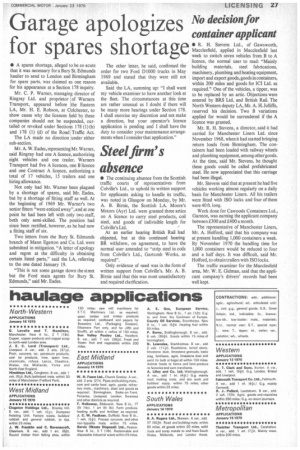 Page 29, 23rd January 1970 —
container applicant
Close
• R. H. Stevens Ltd., of Gawsworth, Macclesfield, applied in Macclesfield last week to switch seven vehicles from B to A licence, the normal user to read: "Mainly building materials, steel fabrications, machinery, plumbing and heating equipment, import and export goods, goods in containers, within 200 miles and goods for ICI Ltd as required." One of the vehicles, a tipper, was to be replaced by an artic. Objections were entered by BRS Ltd. and British Rail, The North Western deputy LA, Mr. A. H. Jolliffe, reserved his decision. Two B variations applied for would be surrendered if the A licence was granted.
Mr. R. H. Stevens, a director, said it had carried for Manchester Liners Ltd. since November 1968, when it had started bringing return loads from Birmingham. The containers had been loaded with railway wheels and plumbing equipment, among other goods. At the time, said Mr. Stevens, he thought these goods could be called prefabricated steel. He now appreciated that this carriage had been illegal.
Mr. Stevens said that at present he had five vehicles working almost regularly on a daily basis for Manchester Liners. All his trailers were fitted with ISO locks and four of them were 40 ft. long.
Work done for Cawoods Containers Ltd., Garston, was earning the applicant company between £300 and £400 a month.
The representative of Manchester Liners, Mr. A. Holford, said that his company was at present handling 1,000 containers a week. By November 1970 the handling time for 1,000 containers would be reduced to four and a half days. It was difficult, said Mr. Holford, to obtain trailers with ISO locks.
The traffic examiner for the Macclesfield area, Mr. W. E. Gidman, said that the applicant company's drivers' records had been well kept.