Tyres flattened by overloading
23rd January 1970
Page 24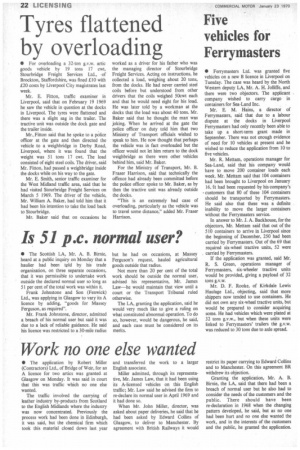 Page 24, 23rd January 1970 —
Tyres flattened by overloading
Close
• For overloading a 32-ton g.v.w. artic goods vehicle by 19 tons 17 cwt, Stourbridge Freight Services Ltd., of Brockton, Staffordshire, was fined £10 with L20 costs by Liverpool City magistrates last week.
Mr. E. Fitton, traffic examiner in Liverpool, said that on February 19 1969 he saw the vehicle in question at the docks in Liverpool. The tyres were flattened and there was a slight sag in the trailer. The tractive unit was outside the dock gate and the trailer inside.
Mr.. Fitton said that he spoke to a police officer at the gate and then directed the vehicle to a weighbridge in Derby Road, Liverpool, where it was found that the weight was 51 tons 17 cwt. The load consisted of eight steel coils. The driver, said Mr. Fitton, had passed a weighbridge inside the docks while on his way to the gate.
Mr. E. Smith, senior traffic examiner for the West Midland traffic area, said that he had visited Stourbridge Freight Services on March 5 1969. The driver of the vehicle, Mr. William A. Baker, had told him that it had been his intention to take the load back to Stourbridge.
Mr. Baker said that on occasions he worked as a driver for his father who was the managing director of Stourbridge Freight Services. Acting on instructions, he collected a load, weighing about 20 tons, from the docks. He had never carried steel coils before but understood from other drivers that the coils weighed 50cwt each and that he would need eight for his load. He was later told by a workman at the docks that the load was about 40 tons. Mr. Baker said that he thought the man was joking. When he arrived at the gate the police officer on duty told him that two Ministry of Transport officials wished to speak to him. He now thought that perhaps the vehicle was in fact overloaded but the officer would not let him return to the dock weighbridge as there were other vehicles behind him, said Mr. Baker.
For the Ministry of Transport, Mr. B. Fraser Harrison, said that technically the offence had already been committed before the police officer spoke to Mr. Baker, as by then the tractive unit was already outside the docks.
"This is an extremely bad case of overloading, particularly as the vehicle was to travel some distance," added Mr. Fraser Harrison.