Is 51 p.c. normal user?
23rd January 1970
Page 24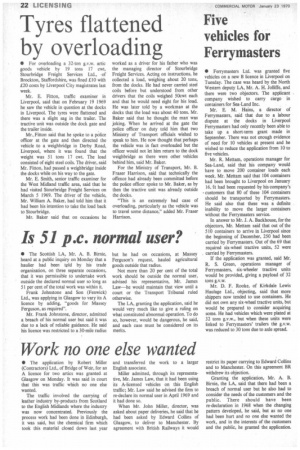 Page 24, 23rd January 1970 —
Is 51 p.c. normal user?
Close
• The Scottish LA, Mr. A. B. Birnie, heard at a public inquiry on Monday that a haulier had been told by his trade organization, on three separate occasions, that it was permissible to undertake work outside the declared normal user so long as 51 per cent of the total work was within it.
Frank Johnstone and Son (Fenwick) Ltd., was applying in Glasgow to vary its A licence by adding, "goods for Massey Ferguson, as required".
Mr. Frank Johnstone, director, admitted a breach of his normal user but said it was due to a lack of reliable guidance. He said his licence was restricted to a 30-mile radius but he had on occasions, at Massey Ferguson's request, hauled agricultural goods outside that radius.
Not more than 20 per cent of the total work should be outside the normal user, advised his representative, Mr. James Law—he would maintain that view until a court or the Transport Tribunal ruled otherwise.
The LA, granting the application, said he would very much like to give a ruling on what constituted abnormal operation. To do so, however, would be dangerous, he said, and each case must be considered on its merits.