Five vehicles for Ferrymasters
23rd January 1970
Page 24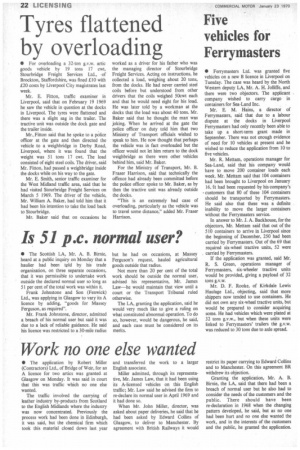 Page 24, 23rd January 1970 —
Five vehicles for Ferrymasters
Close
• Ferrymasters Ltd. was granted five vehicles on a new B licence in Liverpool on Tuesday. The case was heard by the North Western deputy LA, Mr. A. H. Jolliffe, and there were two objectors. The applicant company wished to carry cargo in containers for Sea-Land Inc.
Mr. E. M. Hain; a director of Ferrymasters, said that due to a labour dispute at the docks in Liverpool Ferrymasters had only recently been able to take up a short-term grant made in September. There was not enough evidence of need for 10 vehicles at present and he wished to reduce the application from 10 to five vehicles.
Mr. R. Mettam, operations manager for Sea-Land, said that his company would have to move 200 container loads each week. Mr. Mettam said that 104 containers had been brought to Liverpool on January 16. It had been requested by his company's • customers that 80 of these 104 containers should be transported by Ferrymasters. He said also that there was a definite inability to move the larger containers without the Ferrymasters service.
In answer to Mr. J. A. Backhouse, for the objectors, Mr. Mettam said that out of the 510 containers to arrive in Liverpool since the beginning of December, 250 had been carried by Ferrymasters. Out of the 69 that required six-wheel tractive units, 52 were carried by Ferrymasters.
If the application was granted, said Mr, R. S. Green, operations manager of Ferrymasters, six-wheeler tractive units would be provided,, giving a payload of 32 tons g.v.w.
Mr. D. F. Rooke, of Kirkdale Lewis Haulage Ltd., objecting, said that more shippers now tended to use containers. He did not own any six-wheel tractive units, but would be prepared to consider acquiring some, He had vehicles which were plated at 32 tons g.v.w., but when these units were linked to Ferrymasters' trailers the g.v.w. was reduced to 30 tons due to axle spread.