Seadyke formed
23rd January 1970
Page 21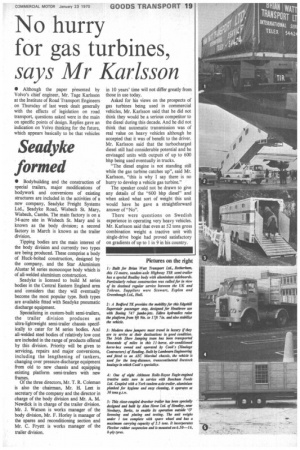 Page 21, 23rd January 1970 —
Seadyke formed
Close
• Bodybuilding and the construction of special trailers, major modifications of bodywork and conversions of existing structures are included in the activities of a new company, Seadyke Freight Systems Ltd., Seadyke Road, Wisbech St. Mary, Wisbech, Cambs. The main factory is on a 54-acre site in Wisbech St. Mary and is known as the body division; a second factory in March is known as the trailer division.
Tipping bodies are the main interest of the body division and currently two types are being produced. These comprise a body of Huck-bolted construction, designed by the company, and the Star Aluminium Alustar M series monocoque body which is of all-welded aluminium construction.
Seadyke is licensed to build M series bodies in the Central Eastern England area and considers that they will eventually become the most popular type. Both types are available fitted with Seadyke pneumatic discharge equipment.
Specializing in custom-built semi-trailers, the trailer division produces an ultra-lightweight semi-trailer chassis specifically to cater for M series bodies. And all-welded steel bodies of relatively low cost are included in the range of products offered by this division. Priority will be given to servicing, repairs and major conversions, including the lengthening of tankers, changing over pressure-discharge equipment from old to new chassis and equipping existing platform semi-trailers with new frames.
Of the three directors, Mr. T. R. Coleman is also the chairman, Mr. H. Leet is secretary of the company and the director in charge of the body division and Mr. A. M. Newdick is in charge of the trailer division. Mr. J. Watson is works manager of the body division, Mr. F. Honey is manager of the spares and reconditioning section and Mr. C. Fryett is works manager of the trailer division.