No hurry for gas turbines, says Mr Karlsson
23rd January 1970
Page 21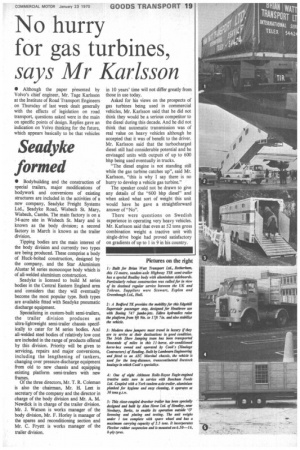 Page 21, 23rd January 1970 —
No hurry for gas turbines, says Mr Karlsson
Close
• Although the paper presented by Volvo's chief engineer, Mr. Tage Karlsson at the Institute of Road Transport Engineers on Thursday of last week dealt generally with the effects of legislation on road transport, questions asked were in the main on specific points of design. Replies gave an indication on Volvo thinking for the future, which appears basically to be that vehicles in 10 years' time will not differ greatly from those in use today.
Asked for his views on the prospects of gas turbines being used in commercial vehicles, Mr. Karlsson said that he did not think they would be a serious competitor to the diesel during this decade, And he did not think that automatic transmission was of real value on heavy vehicles although he accepted that it was of benefit to the driver. Mr. Karlsson said that the turbocharged diesel still had considerable potential and he envisaged units with outputs of up to 600 bhp being used eventually in trucks.
"The diesel engine is not standing still while the gas turbine catches up", said Mr. Karlsson, "this is why I say there is no hurry to develop a vehicle gas turbine."
The speaker could not be drawn to give any details of the "600 bhp diesel" and when asked what sort of weight this unit would have he gave a straightforward answer of "No".
There were questions on Swedish experience in operating very heavy vehicles. Mr. Karisson said that even at 52 tons gross combination weight a tractive unit with single-drive bogie had proved satisfactory on gradients of up to 1 in 9 in his country.